Binance, what is it?
To date, Binance is the largest cryptocurrency exchange by volume. In May 2022, the Autorité des marchés financiers (AMF) registered Binance as a Digital Asset Services Provider (PSAN). In addition to offering a cryptocurrency exchange platform, Binance offers Futures trading, buying/selling Fan Token, savings, staking, buying/selling NFTs or even a Launchpad.
You can create a Binance account through the mobile app or through a web page on PC. Here we introduce how to create a Binance account on PC.
If you want to create a Binance account directly on PC, go to our article How to Create a Binance Account on PC in Minutes?
Registration on Binance
There are several ways to create an account on Binance. You can register using your phone number, your email, your Google account or your Apple account.
But before you can sign up, you need to download the Binance app, available on Apple Store and Google Play Store.

Create an account
Once downloaded, launch the Binance app and follow these instructions to create your account:
1. Press the small character at the top left of the screen.
2. Select "Register".
3. Select "Register via email or mobile".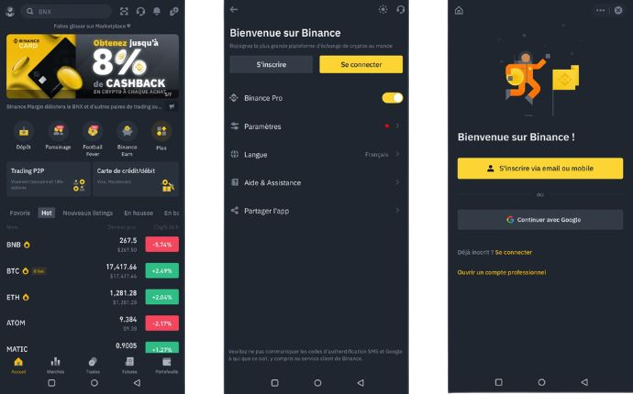 4. Write down your email address and create a password. Read the Termes and Conditions and then click on "Create an account"
5. Get the verification code received by email. Enter the code and click "Send".
6. Your account is created. Next step, verify your identity. Tap "Check Now".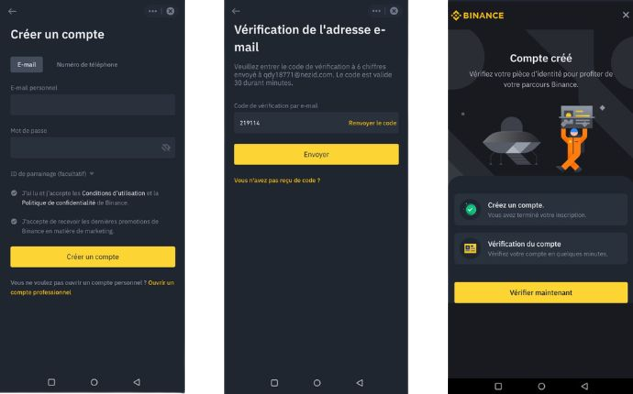 Verification of your identity
To verify your identity and use the services of the application, you will need to provide several informations to Binance: Name and First name, Nationality, Date of birth as well as your Address.
1. Select your country of residence and click "Continue".
2. Fill in your surname, first name and date of birth then click on "Continue".
3. Enter your current residential address and click "Continue".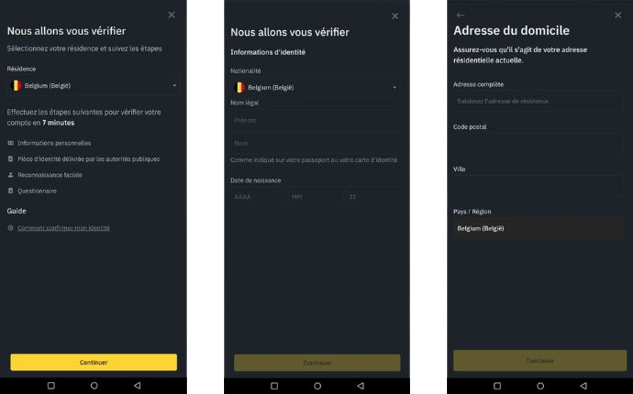 4. You must take a photo of an ID as well as a video selfie.




5. Take a photo of an ID. Follow the instructions to take your photos correctly.




6. Take a video selfie. Avoid wearing glasses or a hat. Make sure you are exposed to light.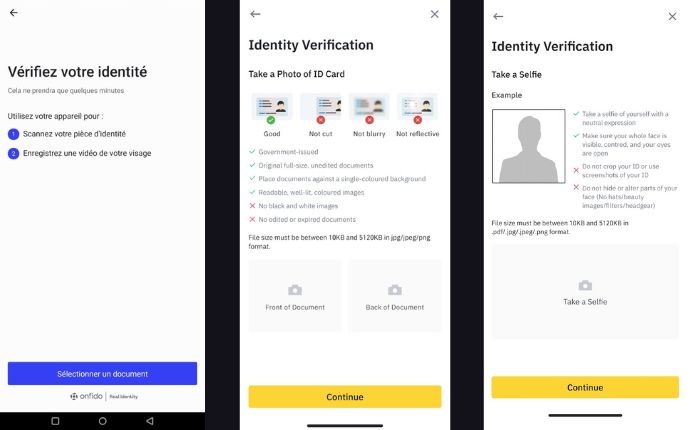 Before you can access your wallet on Binance, you must answer questions to complete your identity validation. Answer the questions. They will always be accessible in your account settings to update them if necessary.
How long does verification take?
Usually, Binance completes the verification of your identity within a few minutes. Sometimes the process may take longer due to the information submitted, the region or the number of account creation requests.
Once your identity has been verified, you will receive a confirmation email. You will also see a small green dot on your Binance account, signifying verification was successful.
Securing Your Binance Account
It is recommended to set up two-factor authentication to protect your Binance account from hacks and other threats. Double authentication or 2FA makes it possible to strengthen the security of your account by asking you for two pieces of information to log in: your password and a code generated by a double authentication application such as Google Authenticator.
1. Go to the security menu of the app and select Binance/Google Authentication.
2. Slide the button to the right to activate double authentication.
3. If you don't have the Google Authenticator app yet, tap "Download Google Authenticator".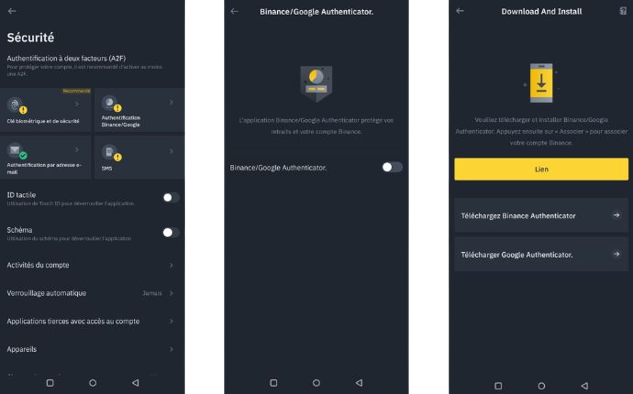 4. Go through the tutorial for authentication instructions.




5. You will see a 16 character recovery key. Tap on "copy".




6. In the app GA press "enter configuration key".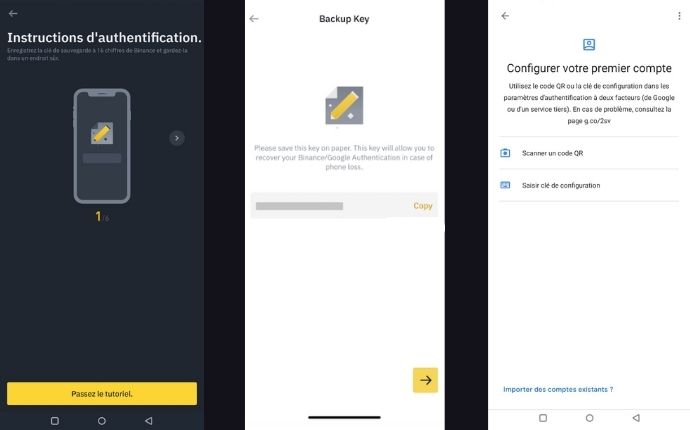 7. Name your key and paste the key in the "Your key" field and tap on "Add".




8. Go back to your Binance app. Enter the code received by email and the code of your GA app.




9. Your Binance account is created, verified and secure!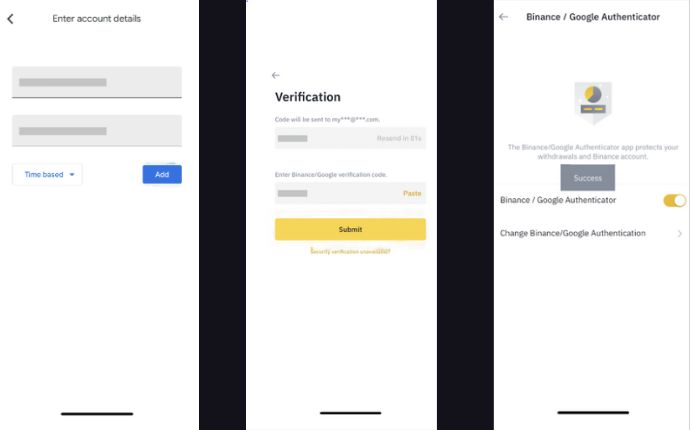 ---
Disclaimer : This is not financial advice. The purpose of the site is to inform readers. Any type of investment involves risk. Do your due diligence and do your own research on the projects featured on the site. Act as a good father and do not invest more than your objectives or financial means allow you. In this regard, read our page: Warning about virtual currencies.
Some articles on the site contain affiliate links, and using them to register from the site allows the development of the site by collecting commissions. By doing so, you also make yourself eligible for a welcome bonus such as a voucher or fee reduction, for example.