What is NGRAVE?
Imagine a world where you have complete control over your cryptocurrencies, without fear of hacker attacks or security breaches. NGRAVE pushes the boundaries of security and innovation to give users absolute peace of mind. Their hardware wallet is more than just a storage device, it's a next-generation digital safe.
Founded in 2018 by Xavier Hendrickx, Ruben Merre and Edouard Vanham, three Belgian visionaries with a passion for securing digital assets, NGRAVE is on a mission to empower cryptocurrency and NFT holders by providing uncompromising control and security solutions. Through their innovative products, NGRAVE aims to revolutionize the cryptocurrency experience by offering users a complete rethink of their approach. NGRAVE's ultimate goal is to inspire individuals to take back control of their wealth and ensure its protection in a simple and effective way.
Note that the expertise and valuable advice of Jean-Jacques Quisquater, NGRAVE's Advisor, have played an essential role in the company's development. With more than 50 years of experience in cryptography and hardware security, Quisquater is a key reference in the field. He even ranks second as a reference in the 2009 Bitcoin paper written by Satoshi Nakamoto himself.
Award-winning wallet and $6 million in funding
Before presenting NGRAVE's hardware wallet, two significant achievements of the Belgian company deserve to be highlighted. First, their device was crowned Wallet of the Year at the prestigious AIBC (Artificial Intelligence and Blockchain Conference) in 2021. This recognition is a testimony to the exceptional quality of their product and their commitment to innovation.
Additionally, 2022 saw significant development for NGRAVE with a $6 million capital raise. This capital allowed them to accelerate their growth and expand their global reach. These funds were secured through the continued interest of reputable investors in decentralized finance and Web3 technology.
These two events clearly illustrate NGRAVE's recognition as one of the leaders in the hardware wallets industry. Their commitment to excellence and innovation has earned them a privileged position in the market, offering users a secure and user-friendly crypto and NFT storage solution.
NGRAVE ZERO, the world's most secure portfolio
NGRAVE's to-the-point approach disrupts industry standards by offering a convenient yet highly secure digital asset storage solution. Whether you're a seasoned investor or a curious novice, their hardware wallet makes it easy to manage cryptocurrencies without compromising security.
Much more than just a hardware wallet, NGRAVE ZERO offers top-notch security with its EAL7 certified operating system, the highest level of certification in the world, surpassing market-leading cryptocurrency custody solutions like Ledger (EAL5+) and Trezor (uncertified). Its use is completely offline, without WiFi, Bluetooth, NFC or USB, thus offering the greatest protection against hackers.
In addition, NGRAVE provides unique private key creation. The key is generated offline, safe from any unwanted access attempts. The NGRAVE ZERO hardware wallet, which has a smartphone-like appearance, offers an intuitive user experience with a touch screen for easy transactions.

Complementary products for a 3-tier solution
In addition to the NGRAVE ZERO wallet, the company offers a range of complementary products to further strengthen the security of digital assets. These include GRAPHENE, stainless steel pads designed to retain the wallet's recovery phrase. Unlike traditional paper sheets, GRAPHENE is resistant to water, shock, corrosion and even extreme temperatures. The valuable information remains perfectly preserved.
To simplify the use of the NGRAVE ZERO wallet, a mobile application called LIQUID has been developed. In addition to facilitating the user experience, this application contributes to a wider adoption of the ecosystem. It allows secure communication with the wallet using a QR code system. No sensitive information related to the personal account is ever exposed, ensuring increased data protection.
Finally, NGRAVE is not satisfied with creating a simple hardware wallet. The company is building a complete ecosystem to meet the needs of cryptocurrency investors and other blockchain-related use cases. From their indestructible stainless steel wafer, GRAPHENE, to their LIQUID mobile app for secure real-time transactions, every element of their product suite is designed to provide a smooth and secure experience.
Conclusion
In conclusion, NGRAVE offers an innovative and highly secure digital asset storage solution with its hardware wallet NGRAVE ZERO. Its EAL7 certified operating system, its unique private key generation process and its offline use make it one of the most secure wallets on the market. In addition, complementary products such as GRAPHENE and the LIQUID application further enhance asset security and facilitate its use.
However, it is important to note that no hardware wallet is perfect, and risks are always present. While NGRAVE offers top-notch security, as with investments, it makes sense to diversify hardware wallets to reduce the various risks associated with holding digital assets. Investing in multiple storage options increases the chances of securing your cryptocurrencies in the best possible way.
Finally, the security of our cryptocurrencies is in our hands. That's why staying vigilant, informed and taking the appropriate steps to protect your assets is the best way to protect yourself.
If you would like more information about NGRAVE's products and services, we invite you to visit their website. To discover the different products available, you can visit their online store.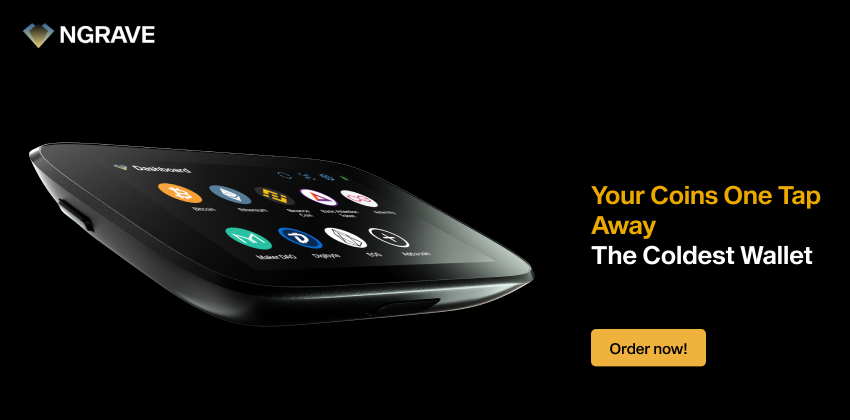 Check out our recommended article, which has been read by other users interested in this topic: Which Ledger to choose? Complete comparison of Ledger hardware wallets