Carbon Browser is an open-source, fast, private and secure Web3 browser developed by Carbon Browser X Labs, in collaboration with Binance, Curate and Poolz Ventures. Launched in 2016 with already over 5 million downloads, Carbon Browser is developed on a customized version of Chromium, offering faster web browsing and better user security protection. Currently available only on Android devices, versions for iOS and PC are currently under development.
The aim of Carbon Browser is to provide a complete Web3 browser to meet the growing needs of the Web3 community. From a fully decentralized perspective, Carbon Browser aims to implement privacy features, powerful ad blocking, a mutltichain cryptocurrency wallet and much more.
How to use Carbon Browser?
To use Carbon Browser, simply download it from the

Google Play Store

, as it's currently only available for Android devices. Once installed, you can enjoy its features, including protection against ad tracking, fast page loading, access to your built-in crypto wallet and more. The browser has been designed to be user-friendly and accessible even to crypto beginners.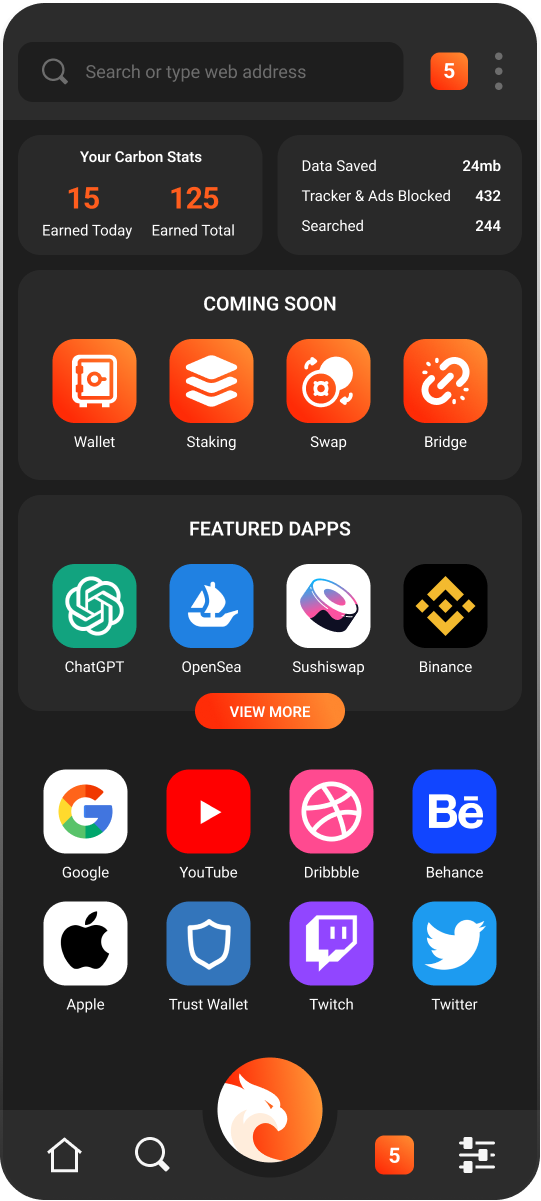 Carbon Browser interface
The interface is simple and intuitive. It includes browsing data such as the size of data saved, trackers and ads blocked, and searches performed. Currently under development, users will be able to enjoy an integrated wallet, the ability to store cryptocurrencies, swap and bridge functionality too. Users will also find their favorite Web3 applications such as exchange platforms, NFT marketplaces, access to decentralized platforms, as well as Web2 applications such as ChatGPT. It's also possible to customize the home page to quickly find the most frequently used websites. Last but not least, the application includes a Browse2Earn that rewards users for their searches, as well as for using the various features offered by Carbon Browser.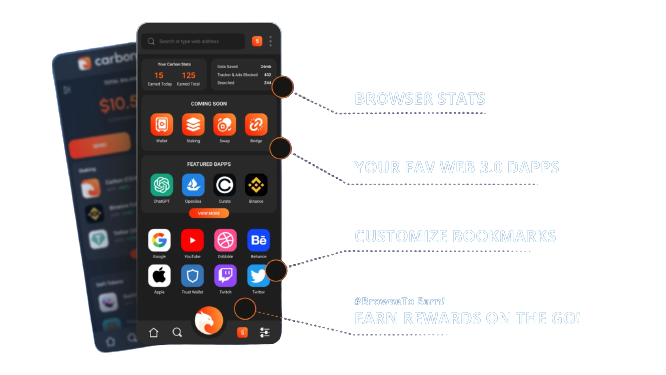 Carbon Browser features
1. Protection against ad tracking: the Carbon Browser automatically blocks online ads and trackers by default, providing a smoother, more secure browsing experience.
2. Increased loading speed: web pages load up to 3 times faster than competing browsers, enhancing the overall user experience.
3. 100% confidential: Carbon Browser features an integrated dVPN (decentralized VPN), ensuring decentralized, private and secure browsing without the need for third-party extensions, and all at no extra cost.
4. Web3 experience: the browser offers a fully immersive Web3 experience, with basic crypto features such as staking and swap functions, as well as a multichain wallet and bridge.
5. Browse2Earn: the ability to earn $CSIX while browsing and spend it on Carbon Browser's partner platforms, without the need for KYC.
6. Carbon Browser Pro: this is the premium version of Carbon Browser, offering a high-end browser for experienced users. It offers, for example, enhanced privacy and security, greater filtering of trackers and ads, and the ability to earn more $CSIX thanks to Browse2Earn.

Browse2Earn: earn $CSIX tokens
Earning $CSIX tokens with Carbon Browser is as simple as it is effective. Please note, however, that rewards will begin to be distributed in the fourth quarter of 2023. To earn $CSIX tokens, all you have to do is navigate using the Carbon Browser. In order to prevent abuse of the system, the Carbon Browser team refrains from specifying how the rewards are generated. However, we do know that rewards vary according to country and daily usage. In addition, an algorithm for distributing rewards in $CSIX automatically adjusts according to supply and demand.
The tokens received can be exchanged for other cryptocurrencies or fiat currencies ($ or €). But they can also be used within Carbon Browser's network of partners, including Amazon and eBay, for example, as well as various charities. Rewards can also be used to access Carbon Browser Pro, the Premium browser.
Finally, it should be stressed that the rewards come from Carbon Browser's ecosystem/treasury wallet, and not from the sale of user data. Profits generated by Carbon Browser come from sponsored integrations and partnerships within the browser.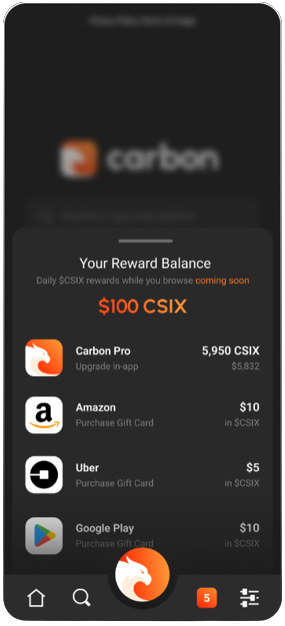 $CSIX Token
The $CSIX token is a BEP-20 token developed on the Binance Smart Chain (BSC) blockchain. To find out more about $CSIX's price history, visit Coinmarketcap. A complete tokenomic overview of the Carbon Browser token is available on the official website.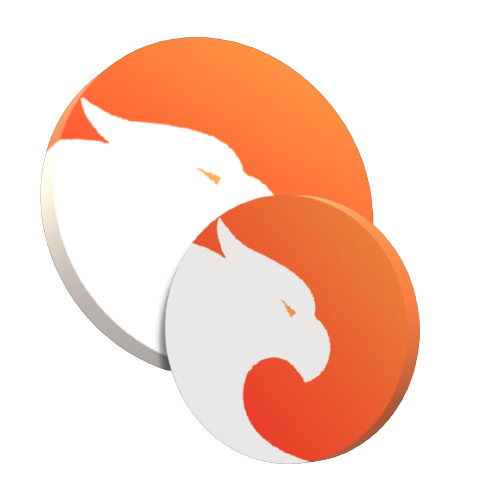 Conclusion: an immersive Web3 browser
Carbon Browser Browser is a promising Web3 browser offering interesting features for both cryptocurrency users and those wishing to protect their privacy. The browser strives to offer a friendly, fast user experience while guaranteeing the security of users' private data. Carbon Browser, in addition to providing a browser for internet searches, aims to offer complete immersion in Web3 by implementing various functionalities such as a multichain crypto wallet, the ability to swap and stake cryptocurrencies, or to use a bridge. Finally, Carbon Browser, which integrates a dVPN, could become a first-choice option among privacy-conscious users interested in cryptocurrencies.
---
Sources : https://carbon.website/ - https://carbon.website/csix/ - https://carbon.website/whitepaper/ - https://carbon.website/roadmap/
Disclaimer : This is not financial advice. The site aims to inform readers about various DApps. Any type of investment involves risk. Do your due diligence and do your own research on the projects featured on the site. Act as a good father and do not invest more than your objectives or financial means allow you. In this regard, read our page: Warning about virtual currencies.
Some articles on the site contain affiliate links and using them to register from the site allows the development of the site by collecting commissions. By doing so, you also make yourself eligible for a welcome bonus such as a voucher or fee reduction, for example.