Create a Crypto.com account
Before creating your account, you need to download the application. To do this, go to the App Store or Google Play and search for the Cypto.com application.
Once you've downloaded the application, launch it. You're now on the Crypto.com home screen. Click on "Register" or "Create an account" to start creating your account. You'll then be redirected to the registration page, where you'll need to enter your personal details: first and last name, e-mail address and a secure password.
Once you have completed the registration page, proceed to the next step by clicking on "Next".




Check your e-mail address
Once you have entered your personal information, Crypto.com will send you a verification e-mail. Go to your inbox and click on the verification link.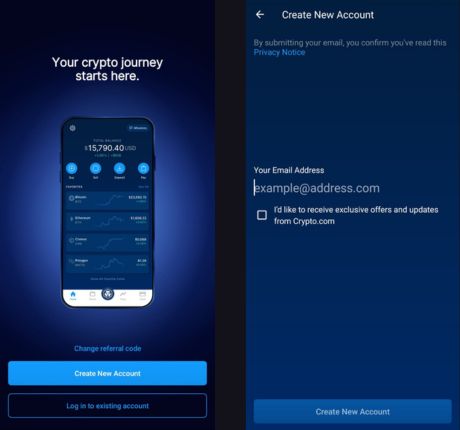 Verify your phone number
Once your e-mail address has been verified, return to the Crypto.com application to finalize the registration process. You must now provide your phone number. Enter it and wait to receive your verification code by SMS. When you receive the code, enter it into the application to verify your phone number.
Finalize your account creation
After entering your personal details, verifying your e-mail address and phone number, you'll have completed the process of creating your account on the Crypto.com application. Now you can access your account and all the features offered by the Crypto.com application.
Securing your Crypto.com account
Before exploring all the platform's features, we recommend that you secure your account. To do so, go to Settings to activate two-factor authentication (2FA) for enhanced security. Keep your password in a safe place and never share it with anyone.
Access the application
You have created your account and would like to access the Crypto.com application. When you launch the application, you need to enter your access code. For added security and convenience, you can connect to the application using biometric authentication. To use this feature, go to Settings and slide the button to activate biometric authentication (Face ID or Touch ID).

Home Page
When you log in to the app, you're taken to the home page. On this page, you'll find all the information you need to start investing or trading in cryptocurrencies. The home page displays your favorite cryptos, a list of the best-performing, worst-performing, newest and most-traded cryptos. You can also find an NFT section with the latest drops and featured collections. At the bottom of the page, Crypto.com lets you discover the application's features through missions and rewards, the Supercharger and access to its University.
On this page, you also have access to the application menu, which includes all the functions offered by Crypto.com.
Buy, Sell, Deposit, Stake or Crypto Pay
En vous rendant sur la page d'accueil, en dessous de votre Solde Total, vous avez la possibilité d'acheter, de vendre, de déposer, de staker ou de payer via des boutons raccourcis.
1. Buying crypto
By selecting "Buy", the application will display all the cryptocurrencies available for purchase with Crypto.com. If you wish to purchase a cryptocurrency, select the desired crypto, then a new page will be displayed in which you must indicate the payment method and purchase amount. Once you've entered the payment method and amount, you'll need to authenticate the transaction. A confirmation page will then appear, and your newly purchased cryptocurrencies will be in your wallet.
2. Selling a crypto
By selecting "Sell", the app will display your cryptocurrencies that are in your wallet and therefore available for sale. You can sell your cryptocurrencies against FIAT or fiat currencies (€ or $) or against cryptocurrencies.
3. Depositing cryptos
By selecting "Deposit", the app will display two deposit methods. The first, a crypto deposit from another cryptocurrency platform. The second, a fiat currency deposit from your bank account.
If you choose the first method, select the cryptocurrency you wish to deposit on the app and the deposit information will appear (address of the selected cryptocurrency or QR code).
If you choose the second method, select the appropriate FIAT currency, and as with a traditional bank transfer, you'll use the information provided by Crypto.com to make the deposit.
4. Cryptos Staking
By selecting "Staker", the app will redirect you to the staking page. The first tab, "Release Radar", displays the cryptocurrencies you can earn rewards from by staking your cryptocurrencies. The second tab, "My portfolio", lists the cryptos you are currently staking.
5. Crypto Pay
The app offers a complete payment solution: Gift cards, Airtime, QR code and Money transfer to your phone contacts. You can also spend your cryptocurrencies via Crypto.com's network of partners, including fashion, travel and vacation, service and gaming stores.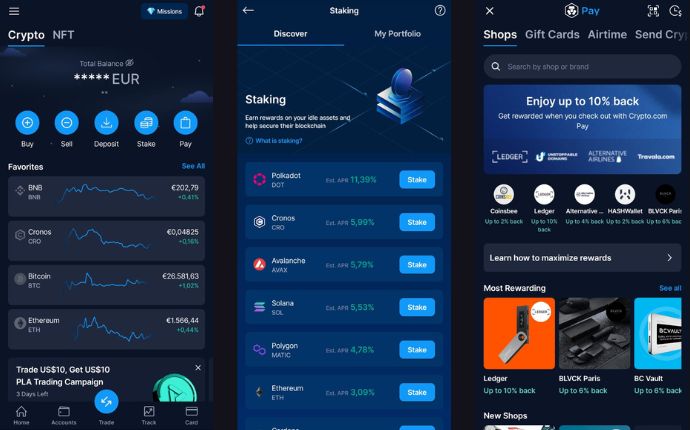 Withdraw your cryptocurrencies
To remove your assets from the application, select "Accounts" from the menu bar at the bottom of the application, then "Crypto Wallet". Then tap on "Transfer" and "Withdraw". The application offers you several withdrawal methods: Crypto.com users (if you've imported your contacts), the Crypto.com exchange, your DeFi wallet or an External Wallet. Withdrawals to an external wallet take you to a new page where you can add and confirm external wallets. If you choose a fiat currency, you will be redirected to the fiat wallet menu to make withdrawals.
Account page
In the menu bar at the bottom of the window, you'll find the "Account" page. Clicking on this tab brings up a page with details of your accounts.
1. Total balance
The total balance shows the funds in your Crypto Wallet, on the Exchange, in Staking, in Crypto Earn, in Supercharger, in your FIAT wallet and on your VISA card if you have one.
2. Convert crypto dust
This feature gives you the ability to turn small cryptocurrency balances, commonly referred to as "crypto dust," into CRO. Crypto dust refers to small cryptocurrency balances that are below the minimum limits required for buy or sell transactions. If you have crypto dust in your cryptocurrency wallet(s), this button will appear with an orange dot, in the top right-hand corner of the screen, to let you know.
3. Transaction history
You can access a detailed record of all transactions carried out on your account, including: Cryptocurrency transactions (purchases, sales, deposits, withdrawals), Staking Rewards, CRO purchases, Earn deposits, etc.
What's more, you can export your transaction history in CSV format, allowing you to view previous exports with ease.
4. Portfolio allocation
At the top left, you'll find your "Portfolio Allocation". On this page, you'll be able to view a variety of essential information, including the total value of your portfolio, its allocation among the various cryptocurrencies illustrated in a pie chart, as well as its allocation among the various products offered by Crypto.com such as the crypto wallet, the exchange platform, Crypto Earn, etc.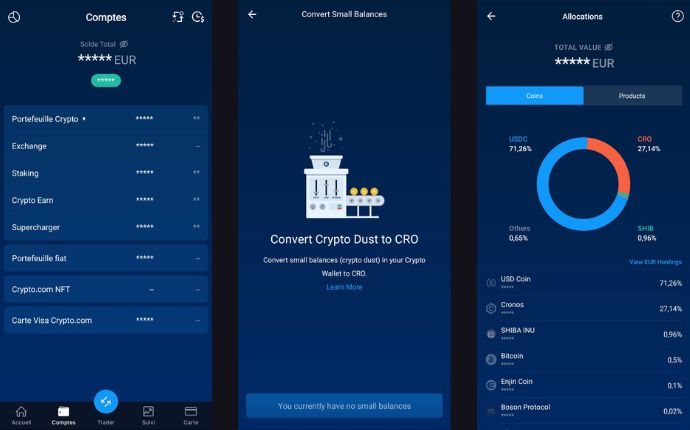 Crypto tracking page
This page, accessible by selecting the "Tracking" tab in the menu bar, lets you track your favorite cryptocurrencies and their variations with ease.
You can set up your favorites, create alerts and receive notifications about price changes in your cryptocurrencies that end up in your favorites.
Card page
To choose a map, first click on the map icon in the bottom right-hand corner of the home page, where you'll see the available map options and their benefits. Once you've chosen a card, you need to activate it via the application by accessing the "Card" menu and selecting "Activate card".
Once activated, you can manage your card via the app, including checking details such as PIN, blocking the card, verifying the card number, activating overseas use, and viewing full card details, including benefits, fees, limits, and terms and conditions.
To top up your card, you have three options: use your crypto wallet, your fiat wallet (provided you have fiat funds), or a credit card. What's more, you can use the money exchange and phone contact import features to transfer money to your friends.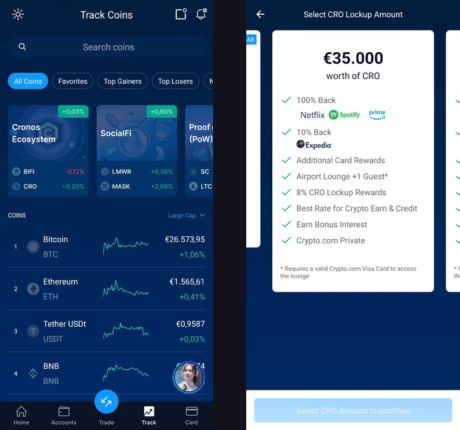 Referral Program
Crypto.com's referral feature allows users to earn rewards by sharing their referral link. When a referred person registers, passes the KYC check and blocks CROs to obtain a Crypto.com Visa card, they receive a bonus of 25 USD in CROs in their CRO wallet. Simultaneously, the referrer also receives 25 USD in CRO in his CRO wallet as soon as the referred person has successfully blocked CRO and ordered a Crypto.com Visa Metal card (Ruby Steel or higher).
Referrers have two options for registering and receiving their reward: via a referral link or by adding a referral code when registering for the Crypto.com application. It is essential that the sponsor has completed his KYC verification for his code to be eligible for referrals.

Conclusion
Crypto.com offers a comprehensive, user-friendly platform for both novice and experienced users in the world of cryptocurrencies. Don't forget to check Crypto.com's official documentation regularly to stay informed of the latest updates and tips to optimize your experience on the platform.
Whether you want to invest in cryptocurrencies, explore new financial opportunities, or simply manage your digital assets, Crypto.com offers you the tools you need to do so safely and efficiently. Start your adventure into the exciting world of cryptocurrencies with Crypto.com today.
---
Source : https://crypto.com/
Disclaimer : This is not financial advice. The purpose of the site is to inform readers. Any type of investment involves risk. Do your due diligence and do your own research on the projects featured on the site. Act as a good father and do not invest more than your objectives or financial means allow you. In this regard, read our page: Warning about virtual currencies.
Some articles on the site contain affiliate links, and using them to register from the site allows the development of the site by collecting commissions. By doing so, you also make yourself eligible for a welcome bonus such as a voucher or fee reduction, for example.