What is Bitcoin (BTC)?
Bitcoin was created in 2008 by a mysterious figure known as Satoshi Nakamoto. Satoshi Nakamoto's aim was twofold: on the one hand, to set up a decentralized, peer-to-peer system enabling the exchange of monetary value without the need for intermediaries such as financial institutions. Secondly, to introduce blockchain technology and the "Proof of Work" consensus algorithm. For more information on blockchain technology, see our article A complete guide to blockchain technology.
Long-term HODL vs. short-term trading
1. Long-term HODL
Long-term investing involves anticipating the superior performance of a cryptocurrency over an extended period of time. This approach, commonly known as 'HODL', is based on the belief in the sustained, gradual growth of a cryptoasset. Investing involves being well-informed and educated on the subject. It also implies having confidence in the invested asset. Many investors choose to acquire assets and store them, anticipating their future appreciation. But there is also another category of people who engage in cryptocurrency trading with the aim of making short-term profits.
2. Short-term trading
Short-term trading involves capitalizing, upwards or downwards, on rapid market fluctuations over short periods, from a few seconds to a few days. The aim of traders, generally speaking, is to make a quick profit. It's important to stress that short-term trading is considerably riskier than long-term holding. As with the long-term approach, it is therefore important to learn about trading, the different forms of trading and the risks to which the trader is exposed.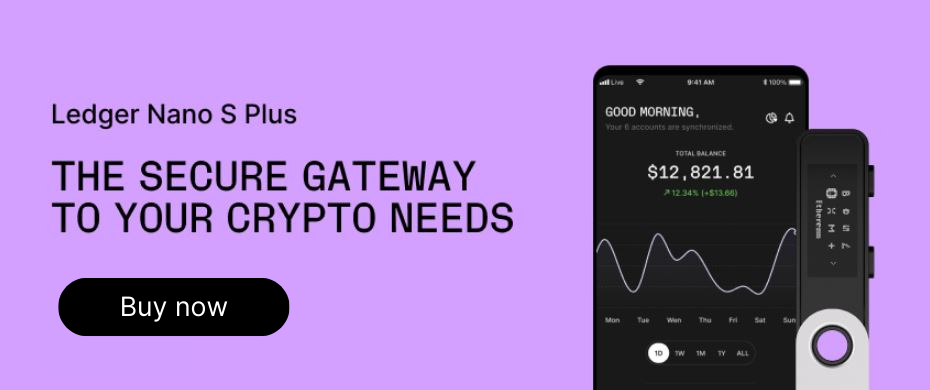 How to buy Bitcoin safely using Ledger Live, step by step?
Ledger Live is an application developed by Ledger to buy cryptocurrencies via Ledger's partner network. Ledger Live enables you to buy, exchange, store and stake your cryptocurrencies, as well as your NFTs. With more than 4 million users, Ledger aims to position itself as a key player on the Web3.
When you use the Buy function on Ledger Live, the cryptocurrency you acquire is instantly transferred, via Ledger's partners, to the address generated by your Ledger wallet. This ensures that your newly purchased bitcoin, or any other cryptocurrency, remains secure and under your control from the moment of purchase.
Let's take a step-by-step look at how to buy bitcoin safely with the Ledger Live app.
1. Ledger Live configuration
First, go to the

official Ledger website

to download Ledger Live. Once installed, launch the Ledger Live app, connect your Ledger and unlock it with your PIN code. The next step is to buy cryptocurrency. In this article, we'll show you how to buy bitcoin via MoonPay's services. Go to the Portfolio tab and click on "+ Add Account".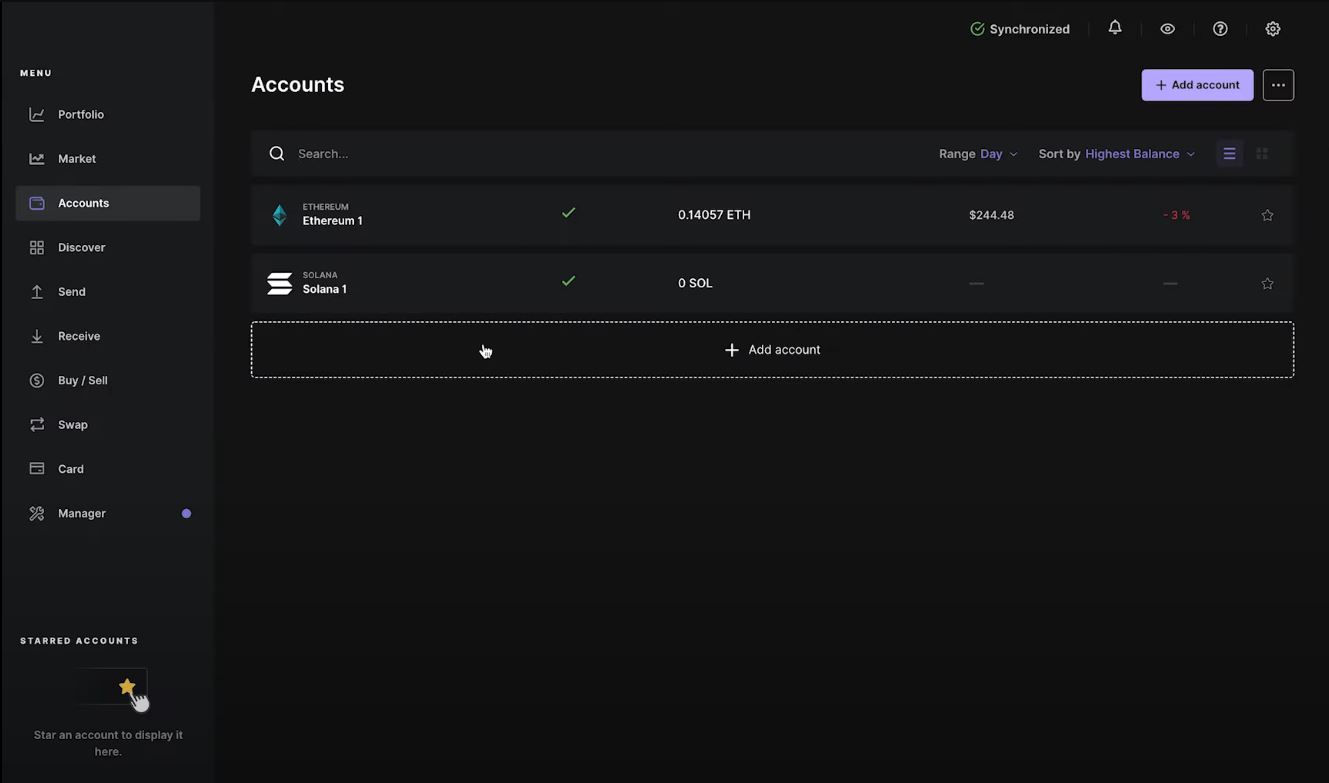 In the drop-down list, select Bitcoin (BTC) and click "Continue". Ledger Live will install the Bitcoin application on your Ledger. This application is required to add a Bitcoin account to Ledger Live. Once your Bitcoin account is set up, go to the "Discover" tab on the left and select MoonPay.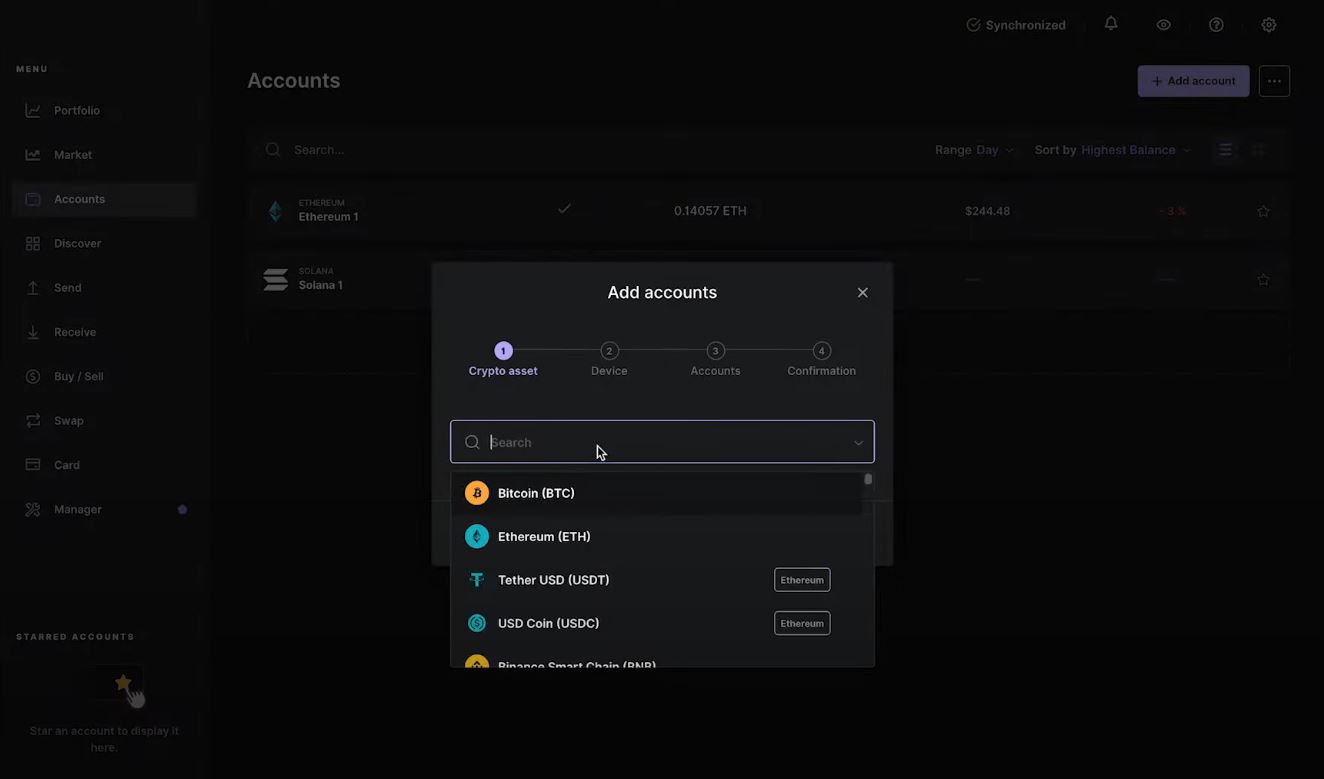 2. Complete the information in MoonPay
MoonPay accepts a wide range of payment methods and supports over 30 fiat currencies, enabling individuals from all over the world to purchase cryptocurrencies.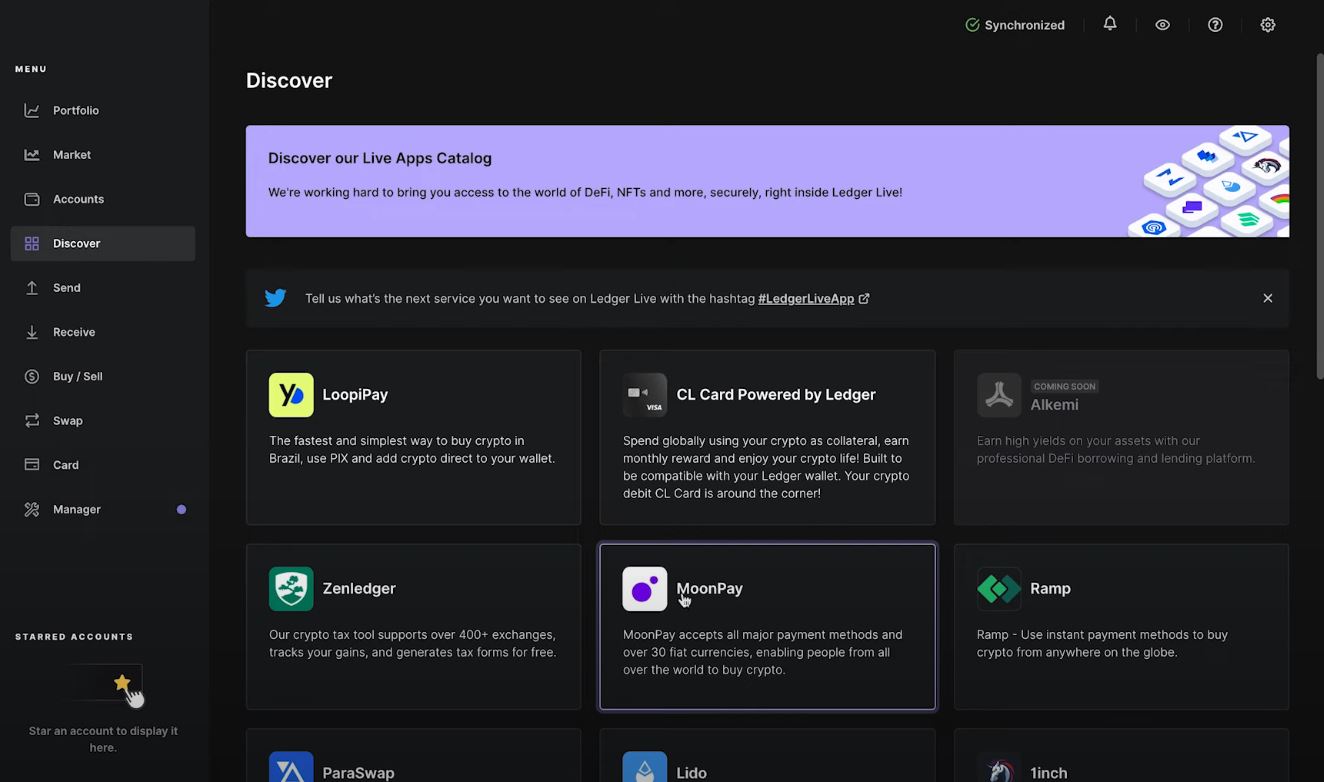 Enter the desired FIAT (fiat currency such as Euro or Dollar) amount in the top bar to obtain an estimated amount of bitcoin, which will be displayed in the bottom bar. Then click on "Continue". In the next step, select the newly created Bitcoin account. MoonPay will then guide you through connecting your Ledger and verifying your Bitcoin address.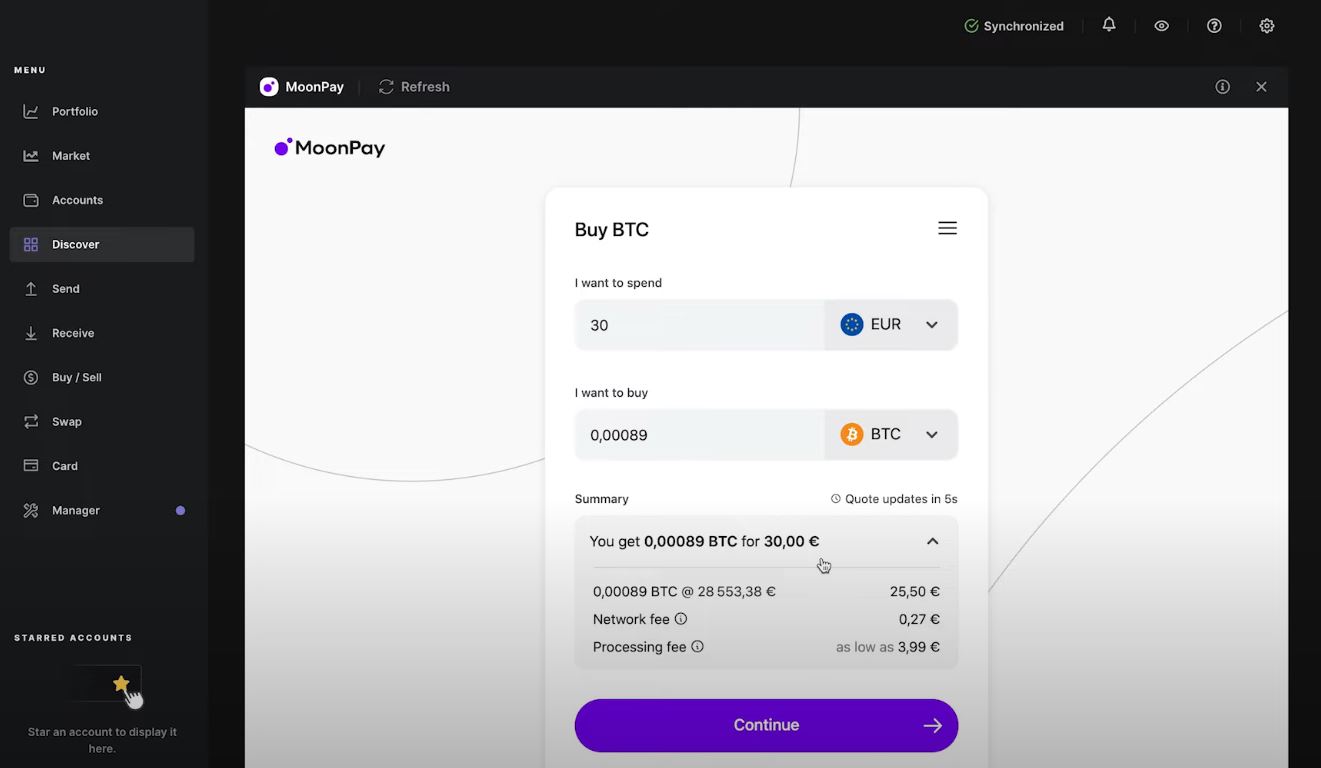 3. Check your address
Carefully compare the address on your Ledger Live application with the one displayed on your Ledger. If the two addresses match, use the buttons on your Ledger to confirm. Then click on "Continue" on Ledger Live. You're now ready to complete the transaction.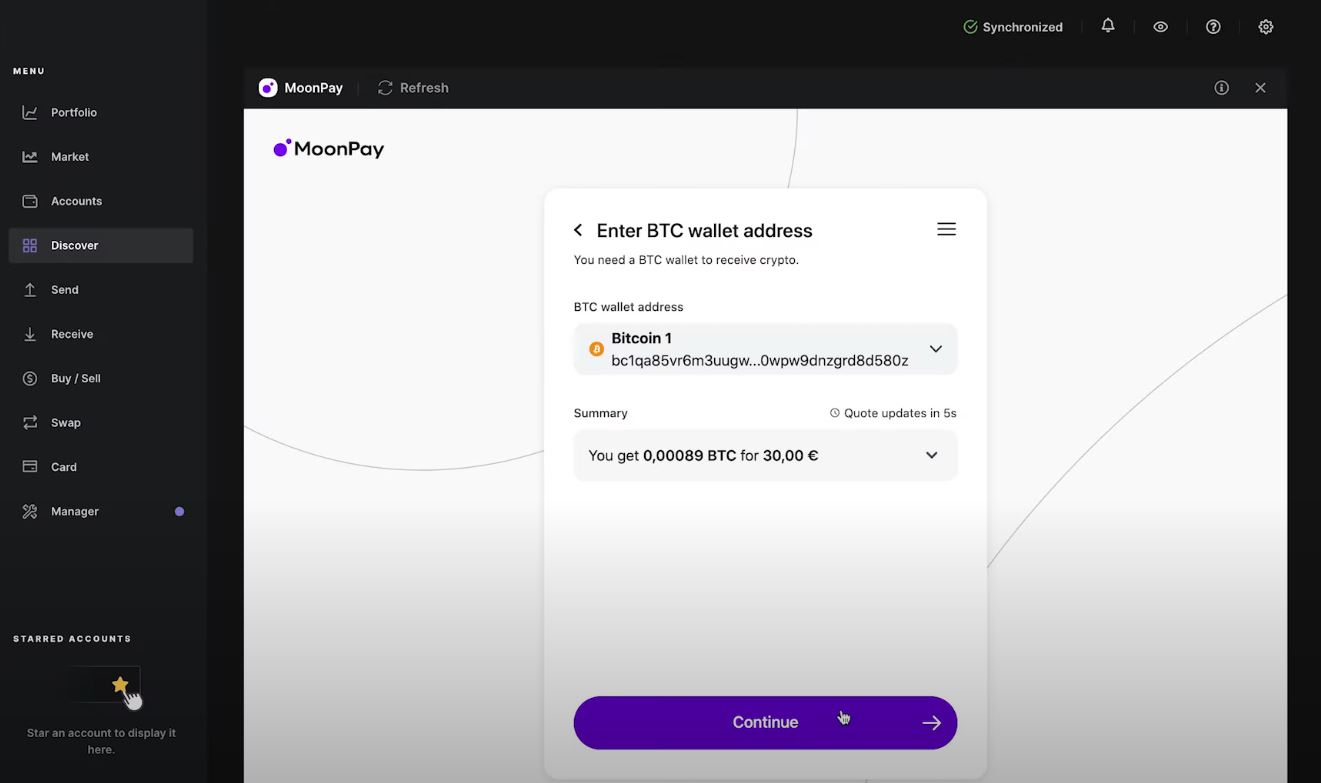 4. Process transaction
Enter your e-mail address and click "Continue". Check your inbox for a verification code sent by MoonPay. Enter the code in the required Ledger Live MoonPay field, accept the terms and conditions by checking the box, then click "Continue". Note that if this is your first experience with MoonPay, a brief

KYC check

is required. Next, choose a payment method: either credit card or bank transfer.
5. Buying bitcoin by credit card
If you choose to make the purchase with a debit or credit card, you will need to enter your card details and confirm the transaction. The confirmation process may vary slightly depending on your bank and card issuer. Follow the on-screen instructions carefully. Check your card details and bitcoin address one last time, then authorize MoonPay to debit your card by checking the designated box. Your order details, including transaction cost and order ID, will be available. Keep this information handy in case you need to contact MoonPay customer service. As a rule, the whole process takes less than 10 minutes, and once your bitcoins have arrived in your Leger Live account, you'll be notified via the app.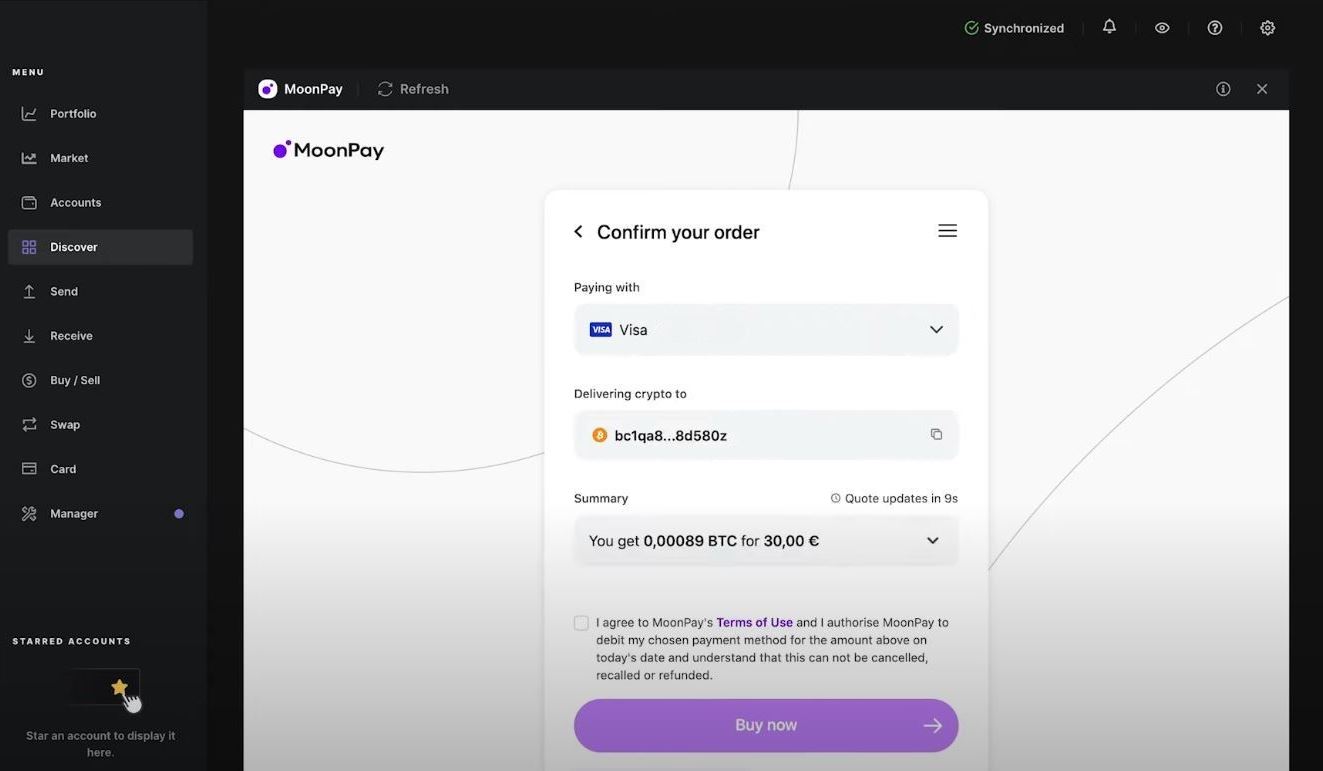 6. Buy bitcoin by bank transfer
If you select the bank transfer option, you will be asked to enter your bank details. After verifying the information, authorize the purchase by checking the designated box. You will then receive the transfer details containing all the information needed to initiate payment from your bank account to MoonPay. Simply copy and paste the information provided directly into your bank's interface. Once MoonPay has received your deposit, your bitcoins will be credited and you'll see them in your Ledger Live account. Please note that bank transfers can take up to three working days to process.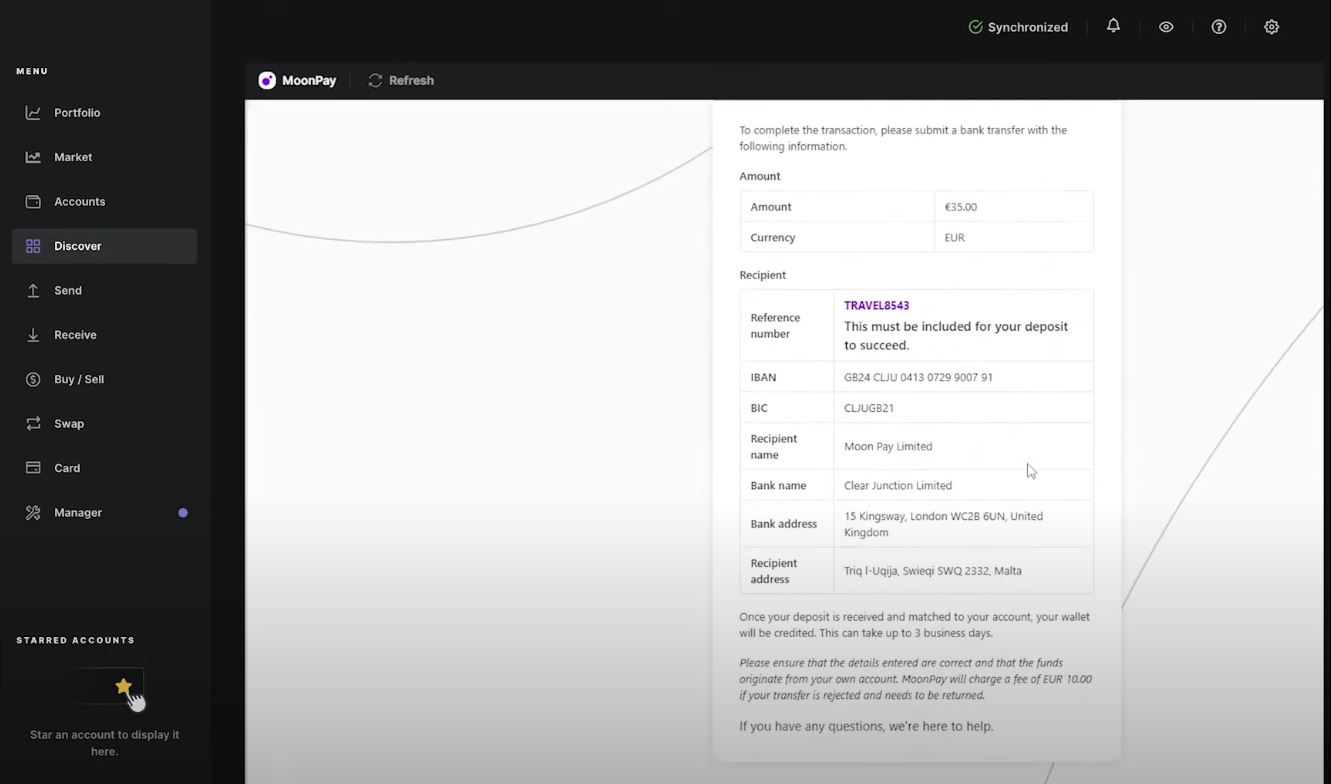 Conclusion: buying Bitcoin securely
In this article, we looked in detail at how to buy bitcoin with Ledger Live. There are, of course, other ways to buy bitcoin. However, buying bitcoin using the Ledger live application allows you to do so securely.
Buying bitcoin securely relies on two elements: ownership and security. Buying bitcoin online often means handing over your private key to an exchange platform, leaving you vulnerable to various external threats and with no real control over your assets.
Ledger offers a secure solution for buying your bitcoins or other cryptocurrencies. With their

hardware wallet

(Ledger Nano S Plus, Ledger Nano X or Ledger Stax) coupled with the Ledger Live application, guarantees both security and ownership. Your private key remains offline, inaccessible to anyone but you. If you'd like to manage and store your cryptocurrencies, but don't yet have a Ledger, read our article

Which Ledger wallet should you choose? Complete comparison of Ledger hardware wallets

to compare the different solutions offered by Ledger. If you're ready to securely own and control your cryptocurrencies, visit

Ledger's online shop

.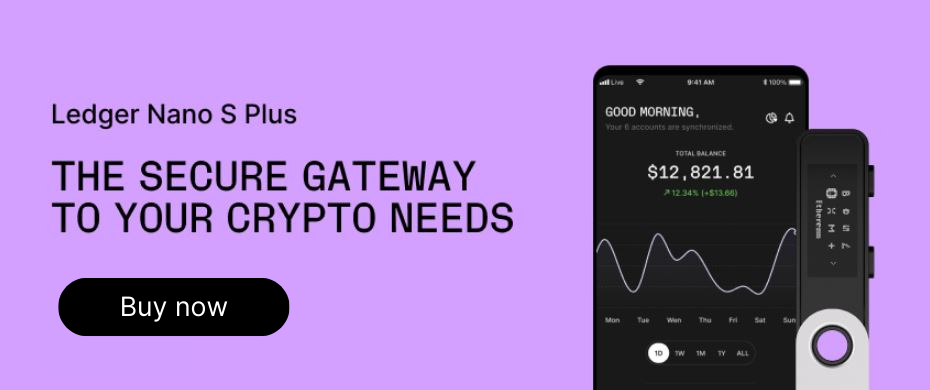 ---
Sources:

https://www.ledger.com/buy-bitcoin

,

consulted on 18.10.23

https://www.ledger.com/ledger-live

,

consulted on 18.10.23

https://www.ledger.com/academy/series/ledger-how-tos/how-to-buy-crypto-through-ledger-live

,

consulted on 18.10.23

https://www.satolix.io/article/Comprendre-le-Bitcoin--fr

,

consulted on 18.10.23
Disclaimer : This is not financial advice. The purpose of the site is to inform readers. Any type of investment involves risk. Do your due diligence and do your own research on the projects featured on the site. Act as a good father and do not invest more than your objectives or financial means allow you. In this regard, read our page: Warning about virtual currencies.
Some articles on the site contain affiliate links, and using them to register from the site allows the development of the site by collecting commissions. By doing so, you also make yourself eligible for a welcome bonus such as a voucher or fee reduction, for example.