Bitget, what is it?
Bitget, a fast-growing cryptocurrency trading platform, offers a variety of features to traders and investors. Founded in 2018, Bitget has quickly established itself as one of the leading platforms for crypto derivatives and futures. Its aim is to merge the fields of decentralized and centralized finance to provide a comprehensive and secure trading solution. In addition, Bitget has established strategic partnerships with entities such as Juventus F.C., DigiMax, Galatasaray S.K., Team Spirit and footballer Leo Messi. The security of user funds is also a priority for Bitget. This is why the platform has launched a $200 million protection fund and plans to increase this to $300 million.
Create a Bitget account
To create a new account on Bitget, you must first download the

Bitget application

on your smartphone or visit

Bitget website

. Then click on the "Sign up" button to get started.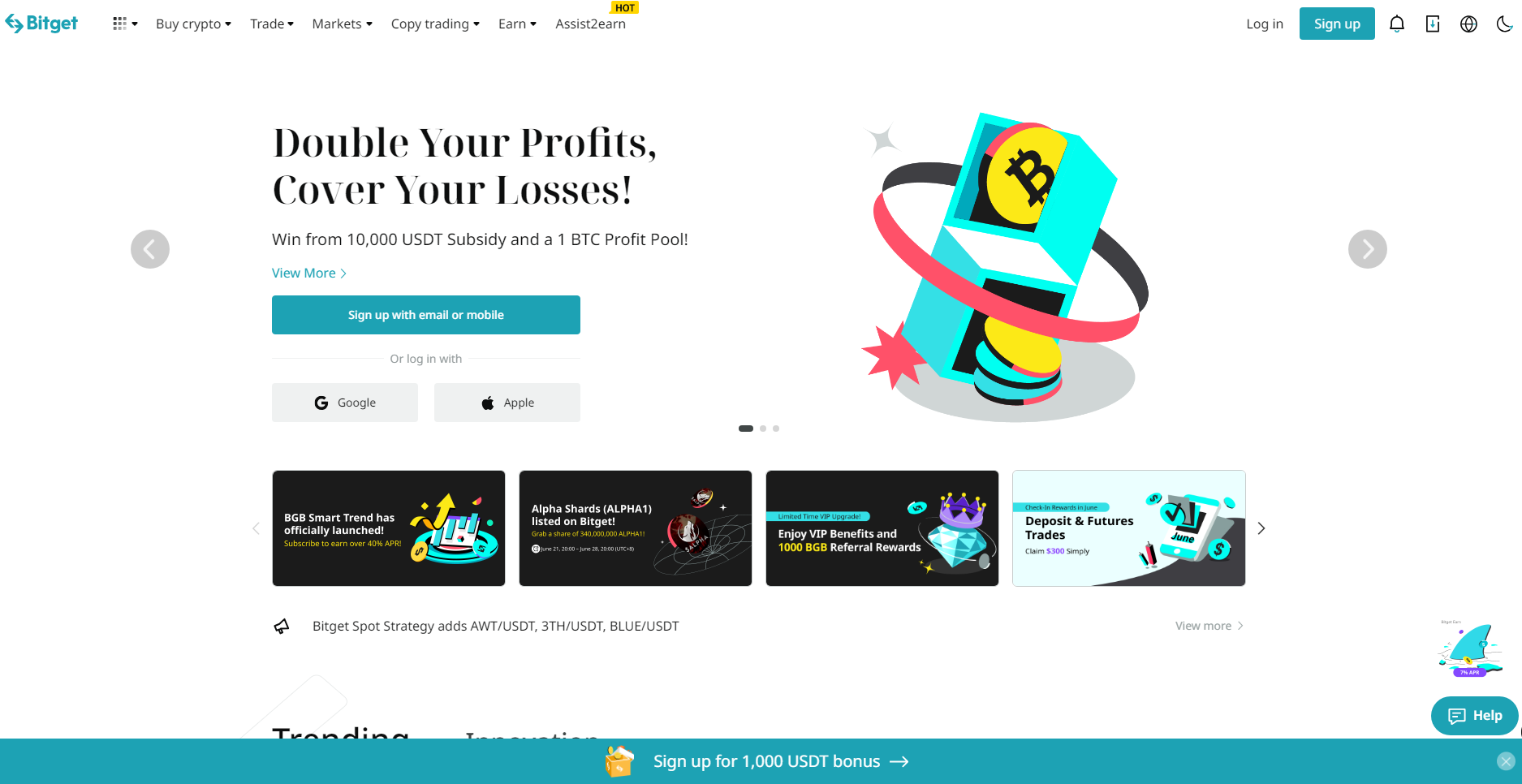 Fill in the registration form
Once on the registration page, you can choose to register either with your email address or your telephone number. Enter a secure password, accept the Terms of Use, and then click on "Create Account".
You can also register via your Google or Apple account.

Click

here

or use the referral code

GEP4WSNS

to get a chance to win a reward of up to

$1000 USDT

(read

referral program Terms and Conditions

).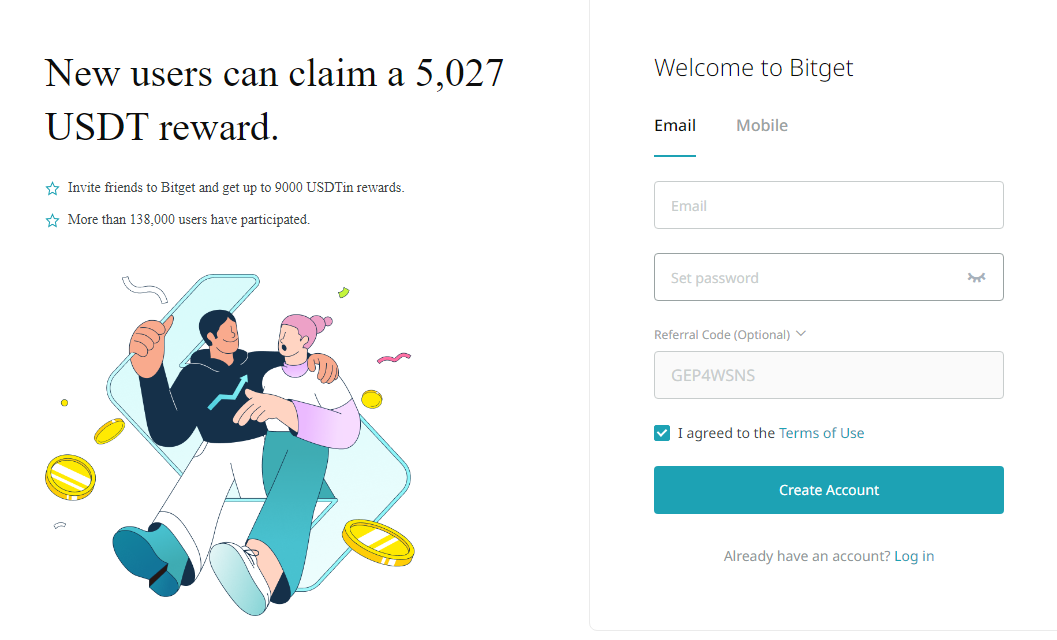 Confirm your account
After submitting the registration form, you will be asked to verify your account. Bitget will send a verification email containing a confirmation link. Click on this link to activate your account.
Identity verification
This step is currently still optional. KYC is not required to use KYC. However, if you wish to verify your identity, click on your profile in the top right-hand corner of the screen, open the settings and go to the Verify by ID tab. Then click on "Verify" to perform Level 1 verification and fill in your personal details, such as country/region, first name, last name and provide an official identity document such as ID card or driver's license. Finally, enter your date of birth and click on "Next step".
Once you've provided this information, take a photo of both sides of your identity document and take a selfie using either your webcam or your Bitget mobile application. Avoid wearing glasses or a hat, and make sure you are exposed to good light.
This mechanism complies with financial regulations (KYC).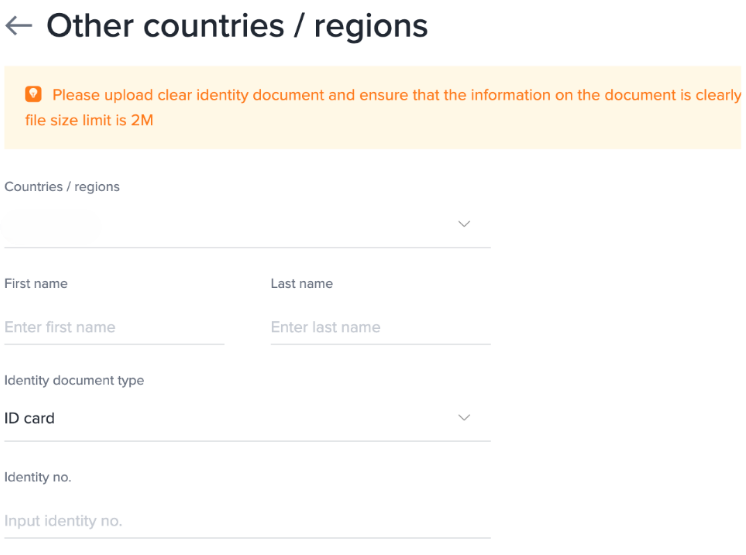 Secure your Bitget account
Once your account has been activated, you'll need to configure your account security. BITGET recommends that you activate two-factor authentication (2FA) for enhanced security. To do this, click on your profile in the top right-hand corner of the screen, open Settings and go to the Security Settings tab. Then click on Google Authenticator Code and follow Bitget's instructions to activate two-factor authentication (2FA).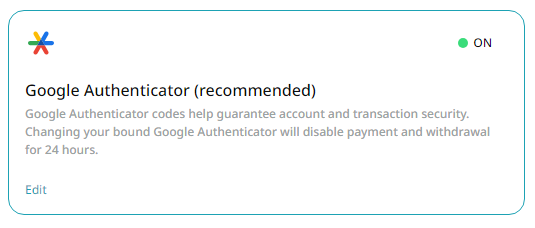 Make a deposit on Bitget
Before you start trading, you'll need to make a deposit into your BITGET account. You can choose between several methods for depositing money into your account: cryptocurrency deposit, credit/debit card, P2P, Third Party or bank transfer. Depending on the method you choose, Bitget will give you the steps to follow to make your deposit.
Explore Bitget's features
Now that you've created your account and made a deposit, you can explore BITGET's many features. Here are some of the key features offered by the platform:
1. Spot Trading
Bitget offers spot cryptocurrency trading, allowing you to buy and sell cryptocurrencies using many classic trading pairs.
2. Futures Trading
You can also access trade futures on Bitget. These products, designed for experienced users, enable you to profit from cryptocurrency price fluctuations, long or short, without owning the underlying assets.
3. Copy Trading
Bitget lets you copy the trades of other experienced traders. You can choose traders to follow based on their past performance and automate your own trades by copying their strategies. Warning, copy trading involves risk, and past performance is no guarantee of future results.
4. Bitget Earn
Bitget's Earn service offers a wide range of features designed to maximize asset growth. With the Savings feature, users can cash in daily interest on their holdings, enabling them to steadily increase their assets over time. For those looking for stable income, the PoS Staking option offers a low-risk way to earn rewards. In addition, the BGB Staking option allows users to stake their assets and benefit from gas-free withdrawals, making it a convenient and profitable choice. Bitget's Launchpad feature allows users to invest in projects before they skyrocket, offering substantial potential returns. With Launchpool, staking becomes easy and straightforward, simplifying the process for users. The Dual Investment feature offers the opportunity to earn profits by investing in two crypto-assets. Finally, the Shark Fin feature enables gains during periods of high volatility.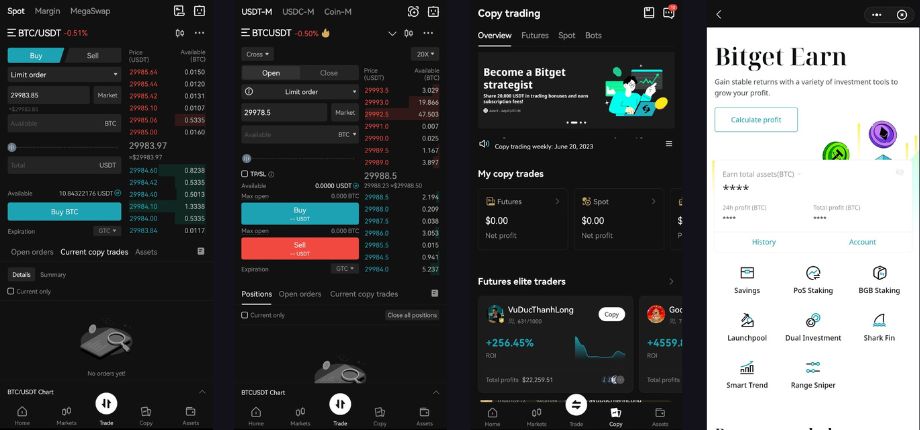 5. Other Features
Bitget provides access to other features such as CandyBomb, Super Airdrop, Assist2earn and more. The platform also offers a wide range of user support and a complet help center.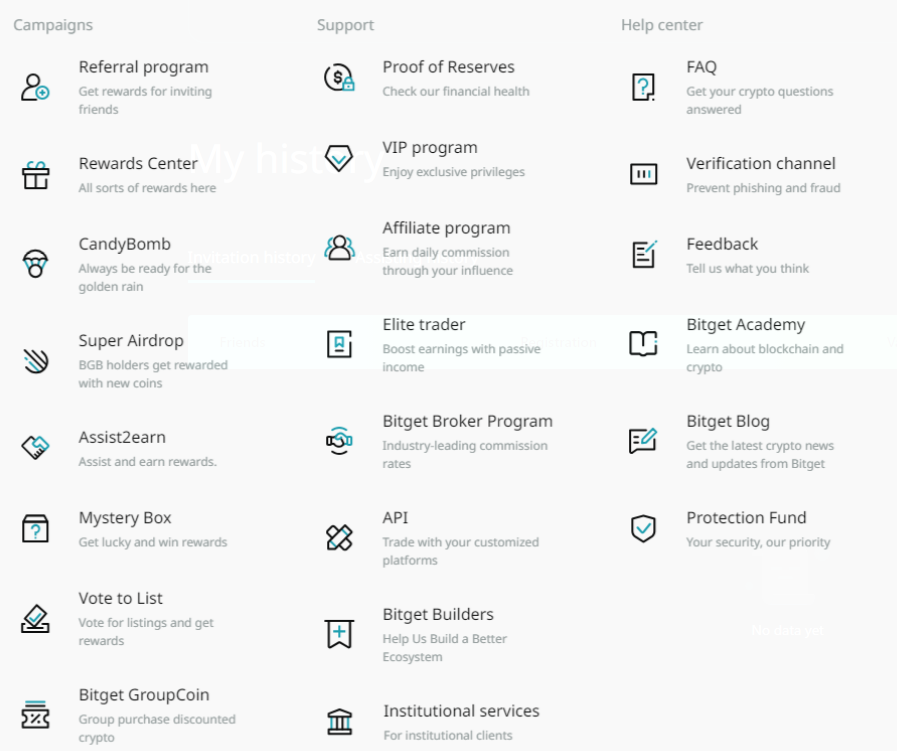 Conclusion and disclaimer
Bitget is an innovative cryptocurrency trading platform offering a full range of features for traders. By following the registration steps mentioned above, you'll be able to create a Bitget account and start enjoying the benefits of this platform. Don't forget to get properly trained and understand the risks involved in cryptocurrency trading before you get started. Any type of investment involves risk. Do your due diligence and do your own research on Bitget and its features. Act like a good father and don't invest more than your goals or financial means allow.

---
Disclaimer : This is not financial advice. The purpose of the site is to inform readers. Any type of investment involves risk. Do your due diligence and do your own research on the projects featured on the site. Act as a good father and do not invest more than your objectives or financial means allow you. In this regard, read our page: Warning about virtual currencies.
Some articles on the site contain affiliate links, and using them to register from the site allows the development of the site by collecting commissions. By doing so, you also make yourself eligible for a welcome bonus such as a voucher or fee reduction, for example.