SwissBorg, what is it?
SwissBorg is a secure and easy-to-use digital wealth management platform. Based in Switzerland, the startup was founded in 2017 by a team of financial industry professionals and experts in blockchain. SwissBorg offers a range of services including cryptocurrency portfolio management, a cryptocurrency exchange, and educational resources to help users learn more about cryptocurrencies. SwissBorg is regulated by the Swiss Financial Market Supervisory Authority (FINMA) and has received several awards for its innovative approach to wealth management. It is available to users in a number of countries around the world.

Register on SwissBorg
The first step is to download the app. Swissborg is available under iOS and Android
You can also click here to receive a welcome ticket worth 1 to 100 $ in CHSB, the token of SwissBorg. You will receive your ticket once you have completed the verification of your identity and a deposit of 50 $ on the application.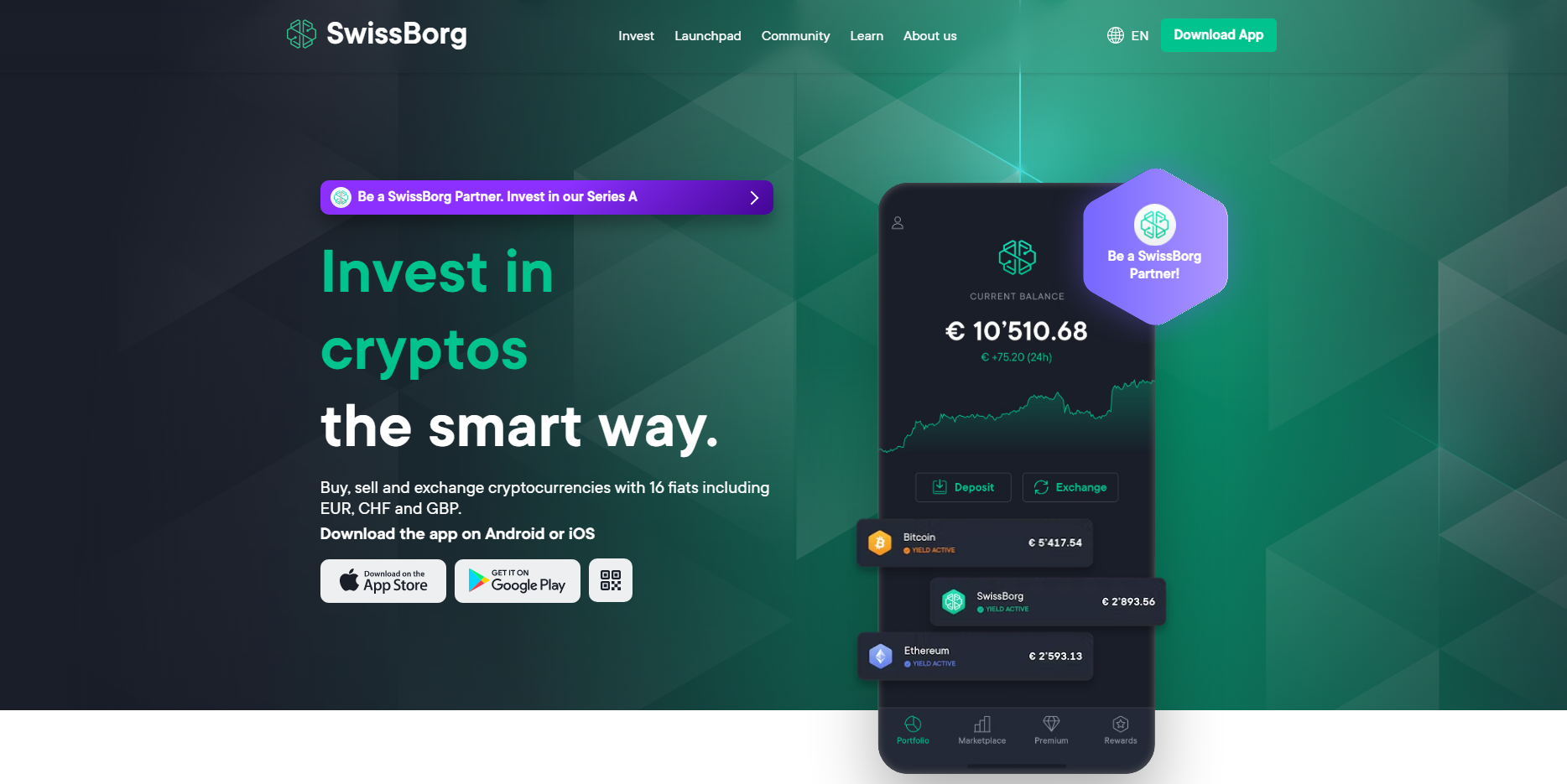 Create an account
Second step, choose the type of registration you want: email or phone number. Then enter your email or phone number and create a password. After reading the Terms of Service, accept them and click "Create Account". You are not required to agree to receive marketing campaigns from Binance.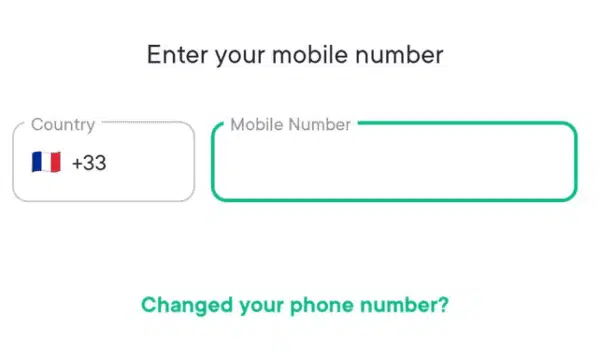 Identity verification
To be able to use the SwissBorg application, you must enter your personal information: surname, first name, date of birth. This mechanism responds to financial regulations (KYC).
Then you need to answer a few questions.
Finally, you must verify your identity by submitting an identity document: passport, driver's license or identity card. The procedure is simple. Follow SwissBorg's instructions to correctly submit your ID.
Once the identity verification is complete, you can access the entire SwissBorg application.

Make a deposit on SwissBorg
To be able to use the SwissBorg application, you must enter your personal information: surname, first name, date of birth. This mechanism responds to financial regulations.
Then you need to answer a few questions.
Next, fill in your credit card information and press "Add card". Your SwissBorg account is ready to be credited.
If you want to make a bank transfer, in "Bank transfer", select your local currency.
Depending on your location, choose the transfer method that suits you: SEPA or SWIFT. In the case of a SWIFT transfer, note the reference number.
Enter the bank details on your bank account to make your first deposit.
If you want to deposit in cryptocurrency, instead of choosing a local currency, choose the cryptocurrency you want to receive on your app.
Copy the cryptocurrency address and paste it into the required field of another cryptocurrency exchange.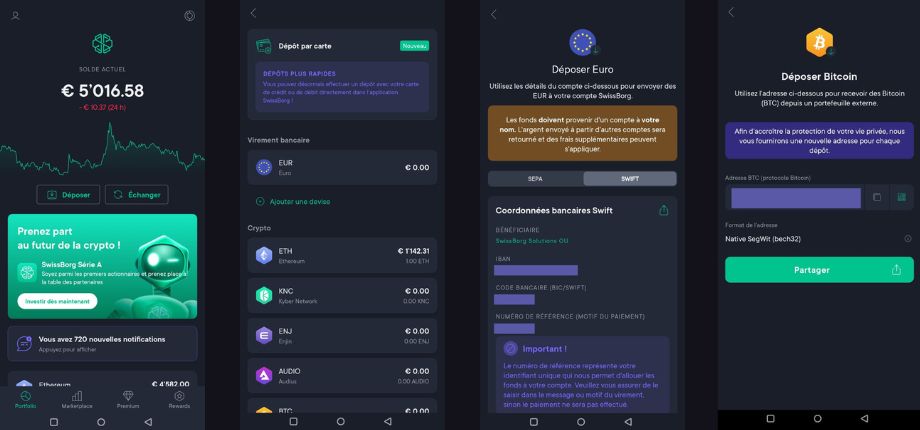 Other features of SwissBorg
In addition to buying and selling cryptocurrencies, SwissBorg offers a series of additional features: Smart Yield, Premium Access, Smart Engine, Bonus Coupon and Smart Send.
The objective is to facilitate user access to the world of crypto but also to be able to adapt to any type of profile.
1. Smart Yield
SwissBorg's Smart Yield is a feature that allows users to earn passive income by staking their cryptocurrency assets. When users save their assets through Smart Yield, they are essentially lending them to the SwissBorg platform in exchange for a share of the platform's revenue.
The amount of income users can earn through Smart Yield will depend on a number of factors: the amount of assets they save and current market conditions.
Smart Yield aims to provide users with an easy and convenient way to earn passive income from their cryptocurrency assets. It is available to users of the SwissBorg wealth management platform in a number of countries around the world.
2. Premium Access
SwissBorg Premium Access is a subscription-based service that gives users access to a series of advanced features and benefits. These can include access to personalized investment advice, a dedicated account manager and priority support.
To access SwissBorg's Premium service, a certain number of CHSBs must be locked, which allows the user to benefit from a higher return on Smart Yield and a reduction in costs. SwissBorg offers different Premium categories to be accessible to everyone.
It should be noted that the SwissBorg Premium Service is optional and not required for users to access and use the platform.
3. The Smart Engine
SwissBorg's Smart Engine is an algorithm designed to analyze market conditions and make investment decisions based on a variety of factors, including market trends, risk tolerance and each portfolio's specific investment objectives .
SwissBorg claims that the algorithm is able to achieve superior returns by taking an analytical and data-driven approach to investment management.
4. Bonus Coupon
Share your invitation link to receive a Bonus Coupon.
1. Open the Rewards tab in the SwissBorg app and share your unique reward link.




2. Your friends must download the SwissBorg app and make a deposit of $50 or more.




3. Receive a ticket and claim your reward worth

$1 to $100 in CHSB

.

5. The Smart Send
SwissBorg's Smart Send is a feature that allows users to easily send and receive cryptocurrency payments. The feature is intended to provide users with a fast and convenient way to send and receive payments using a variety of cryptocurrencies including Bitcoin, Ethereum.
To use the Smart Send feature, users simply need to enter the recipient's cryptocurrency address and the amount they want to send. This feature is designed to allow users to easily send payments to anyone, anywhere in the world, without the need for bank accounts or other traditional financial infrastructure.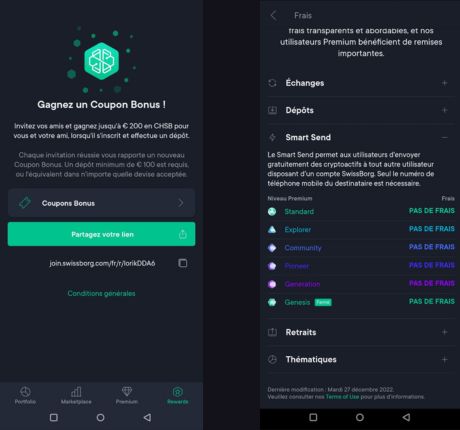 The pros and cons of SwissBorg
SwissBorg has the advantage of being regulated, which can give users greater confidence in the security and reliability of the platform. SwissBorg offers a wide range of services and offers an innovative approach thanks to the Smart Engine algorithm.
In contrast and in comparison to other platforms, SwissBorg supports a limited range of cryptocurrencies. Depending on your engagement on the SwissBorg platform, the fees charged by the platform may be higher or lower.
---
Disclaimer : This is not financial advice. The purpose of the site is to inform readers. Any type of investment involves risk. Do your due diligence and do your own research on the projects featured on the site. Act as a good father and do not invest more than your objectives or financial means allow you. In this regard, read our page: Warning about virtual currencies.
Some articles on the site contain affiliate links, and using them to register from the site allows the development of the site by collecting commissions. By doing so, you also make yourself eligible for a welcome bonus such as a voucher or fee reduction, for example.