What is Bitcoin (BTC)?
The fastest way to obtain Bitcoin is to buy it. However, it is possible to earn them for free via various applications. In this article, we explore different ways of earning Bitcoins for free.
Bitcoin (BTC) is a cryptocurrency created in 2008 by Satoshi Nakamoto. It was the first cryptocurrency to be created. Based on blockchain technology, Bitcoin remains the most iconic and widely recognized of all virtual currencies.
Satoshi Nakamoto's invention created a decentralized, peer-to-peer system that enables the exchange of monetary value without the need for intermediaries such as financial institutions.
If you're looking to obtain Bitcoin, there are two ways. You can obtain Bitcoin via various applications, as described in this article. You can also obtain Bitcoin more quickly by buying it on an exchange platform such as Binance.

Earn Bitcoin for free
If you'd like to earn Bitcoin without spending a cent, discover new ways to earn it for free and have fun at the same time. The various applications presented in this article enable you to earn fractions of Bitcoin called "sats" (1 sat = 0.00000001 Bitcoin), quickly and easily. An opportunity to accumulate Bitcoin without investing.
sMiles – Move2Earn and Play2Earn
sMiles is much more than just a mobile app, it's an innovative way of rewarding users for their daily activities. Every step you take, every purchase you make, every game you play and even every survey you complete can earn you fractions of a Bitcoin.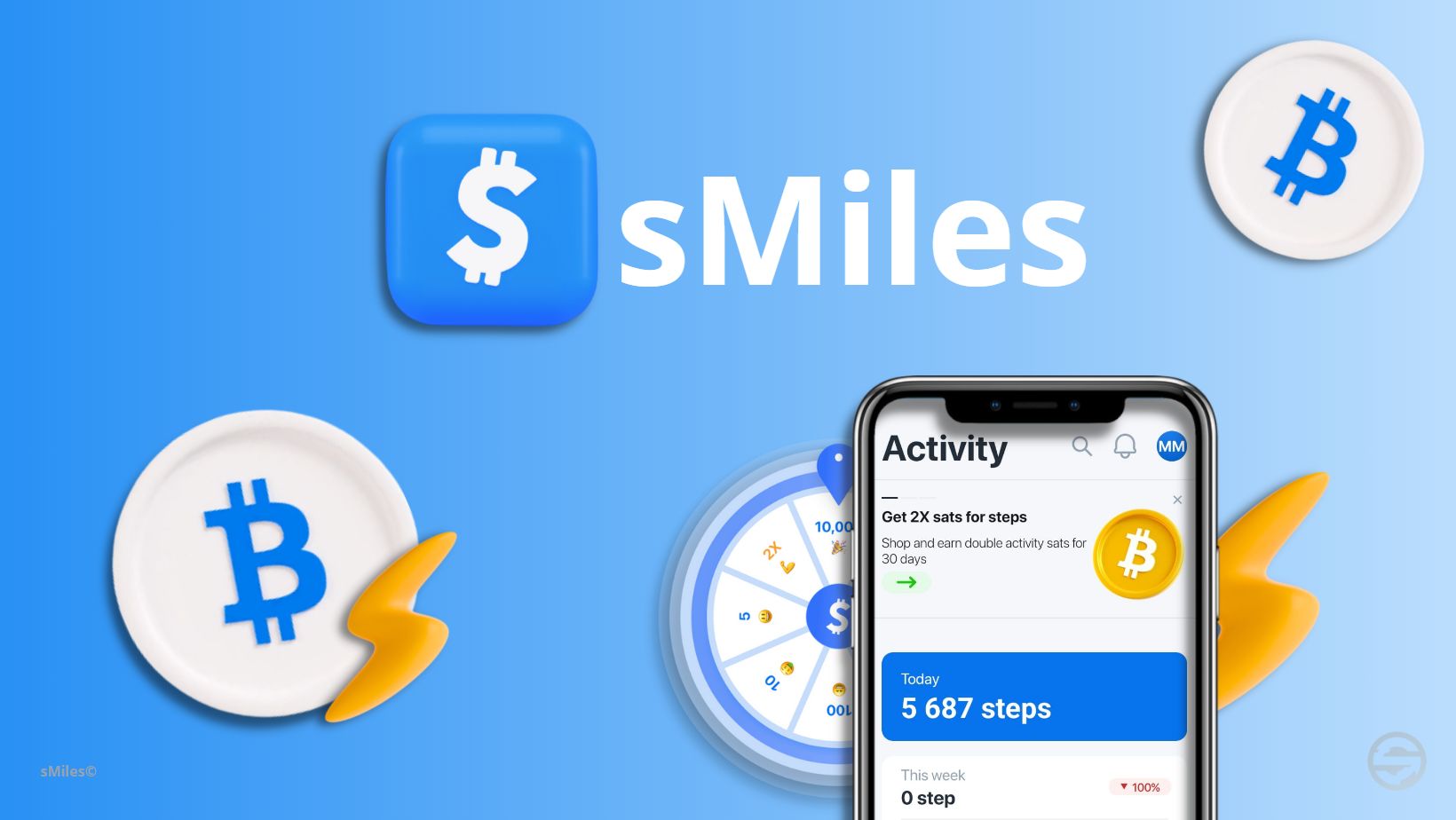 sMiles offers several ways to earn $SATS. Here are some of the application's key features:
1. Earn $SATS while walking: sMiles connects to your phone's activity center and automatically imports your activity data. The more you walk, the more $SATS you'll earn.
2. Bitcoin cashback for purchases: sMiles users can make purchases in partner stores and receive cashback in $SATS. The cashback percentage varies by merchant.
3. Games and surveys: in addition to walking and shopping, you can also earn small amounts of Bitcoin by playing games such as Wheel of Fortune and Chess, or by taking part in surveys.
If you'd like to know how to withdraw your Bitcoin earnings, read our full article on sMiles.
THDNR Games – Play2Earn
Want to accumulate Bitcoin through gaming? Now you can, thanks to THNDR Games, an innovative gaming app where every game can earn you precious fragments of digital gold.
Playing the various games developed by THNDR Games is easy. All games developed by THNDR Games are available on iOS and Android.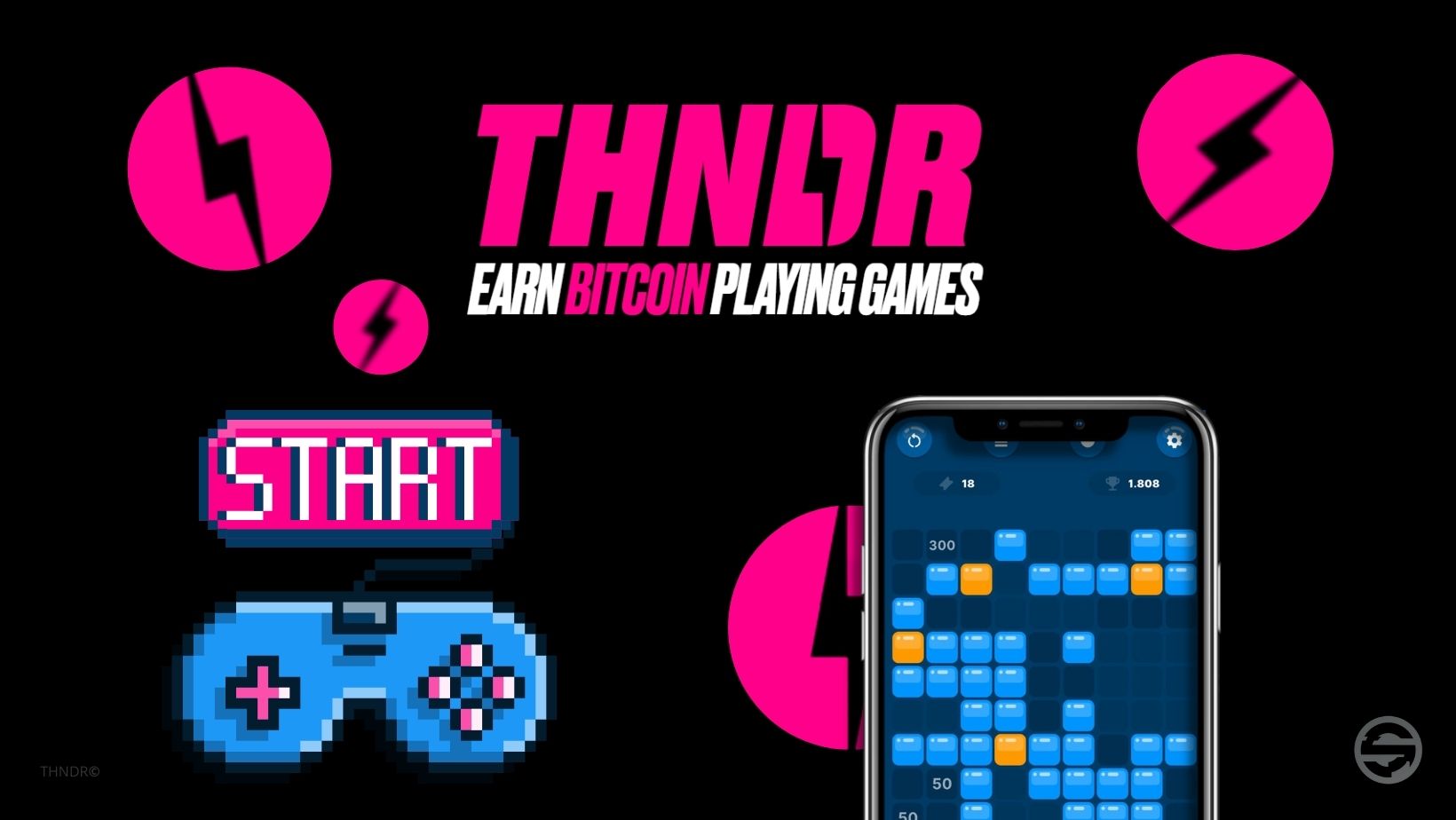 To find the game you want to play on the App Store or Google Play Store, simply click on one of the games below.
1. Tetro Tiles : borrowed from the famous game Tetris, this is a challenging puzzle game that combines tile placement with strategic thinking.
2. Club Bitcoin - Solitaire : here you'll find a classic Solitaire game. If you're a Solitaire fan, you'll love this game.
3. Bitcoin Bounce : more modern, the aim of the game is to jump along the blockchain and bounce as far as you can.
4. Turbo '84 : arcade-style, in this game you have to drive a car, collect tickets and avoid obstacles by changing lanes.
5. Bitcoin Snake : from the famous Snake, one of the world's best-known and most popular mobile games, experience the thrill of the classic Snake.
6. Bitcoin Bay : in this game, you team up with Spark to play a relaxing bubble shooter by the beach.
Once you've accumulated $SATS, you can quickly transfer them to your Lightning wallet. Options such as Wallet of Satoshi or Blue wallet are available for storing your rewards in Bitcoin.
Read our full review of THNDR Games.
Bitcoin Magazine – Learn2Earn
Bitcoin Magazine App is a Learn2Earn app developed by the well-known Twitter account, Bitcoin Magazine, accumulating over 2.9 million followers on the social network. Since 2018, Bitcoin Magazine has launched an app, which is interesting to say the least. Indeed, it allows you to earn $SATS by reading and learning about various topics related to the underlying technology of blockchain and the industry that has developed around Bitcoin.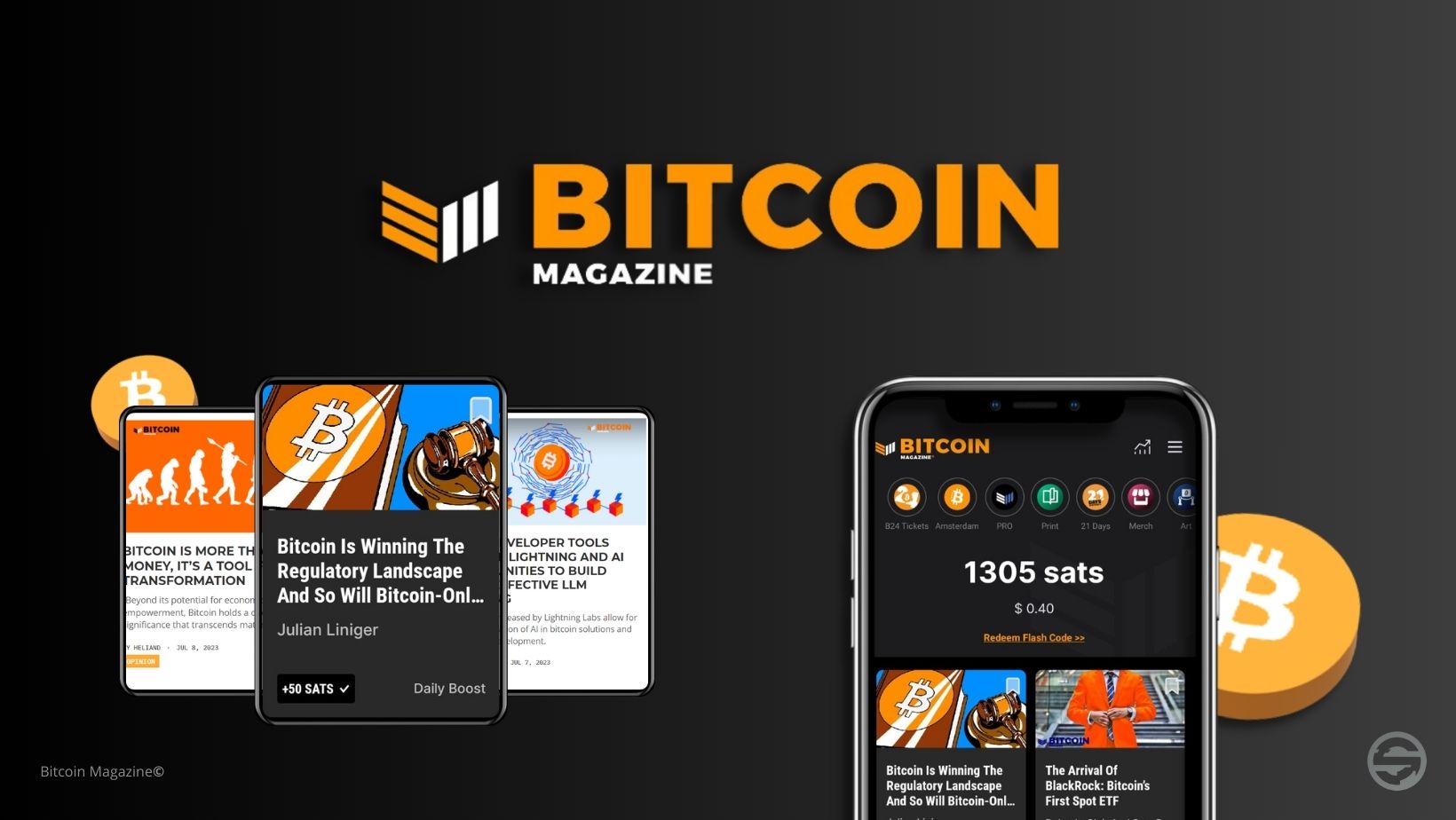 The platform developed by Bitcoin Magazine is very simple and intuitive. As the slogan of the Bitcoin Magazine application indicates, to earn fractions of Bitcoin, all you have to do is "Read, Learn and Earn Bitcoin".
1. Read & Learn: the application offers daily articles on various topics related to Bitcoin. These articles aim to inform you and facilitate learning about Bitcoin and the crypto ecosystem.
2. Earn Bitcoins by reading: once you've finished reading an article in the Bitcoin Magazine application, it pays you with fractions of a Bitcoin. The more you read and learn about Bitcoin and its ecosystem, the more $SATS you'll earn. Reading an article earns you $5SATS. However, on a daily basis, the application offers "Daily Boosts". This means that reading certain articles can earn you 25, 50 or even 75 $SATS.
3. Flash codes: flash codes are a feature that allows you to earn a few hundred $SATS. All you need to do is obtain a code from Bitcoin Magazine, via a tweet, podcast, newsletter or notification. Once you've obtained the code, you need to enter it into the application to collect your $SATS.
To find out how to download the app and learn more about Bitcoin, visit our complete guide to Bitcoin Magazine App.
Simple Bitcoin – Learn2Earn
Simple Bitcoin is an application that lets you learn the ins and outs of Bitcoin, while having the opportunity to earn Bitcoin in the form of $SATS. Designed for beginners and cryptocurrency enthusiasts alike, this app offers a user-friendly interface for understanding the world of Bitcoin. The app features interactive lessons, educational videos and quizzes to teach you the basics of Bitcoin, including how it works, its history and its impact on the global economy.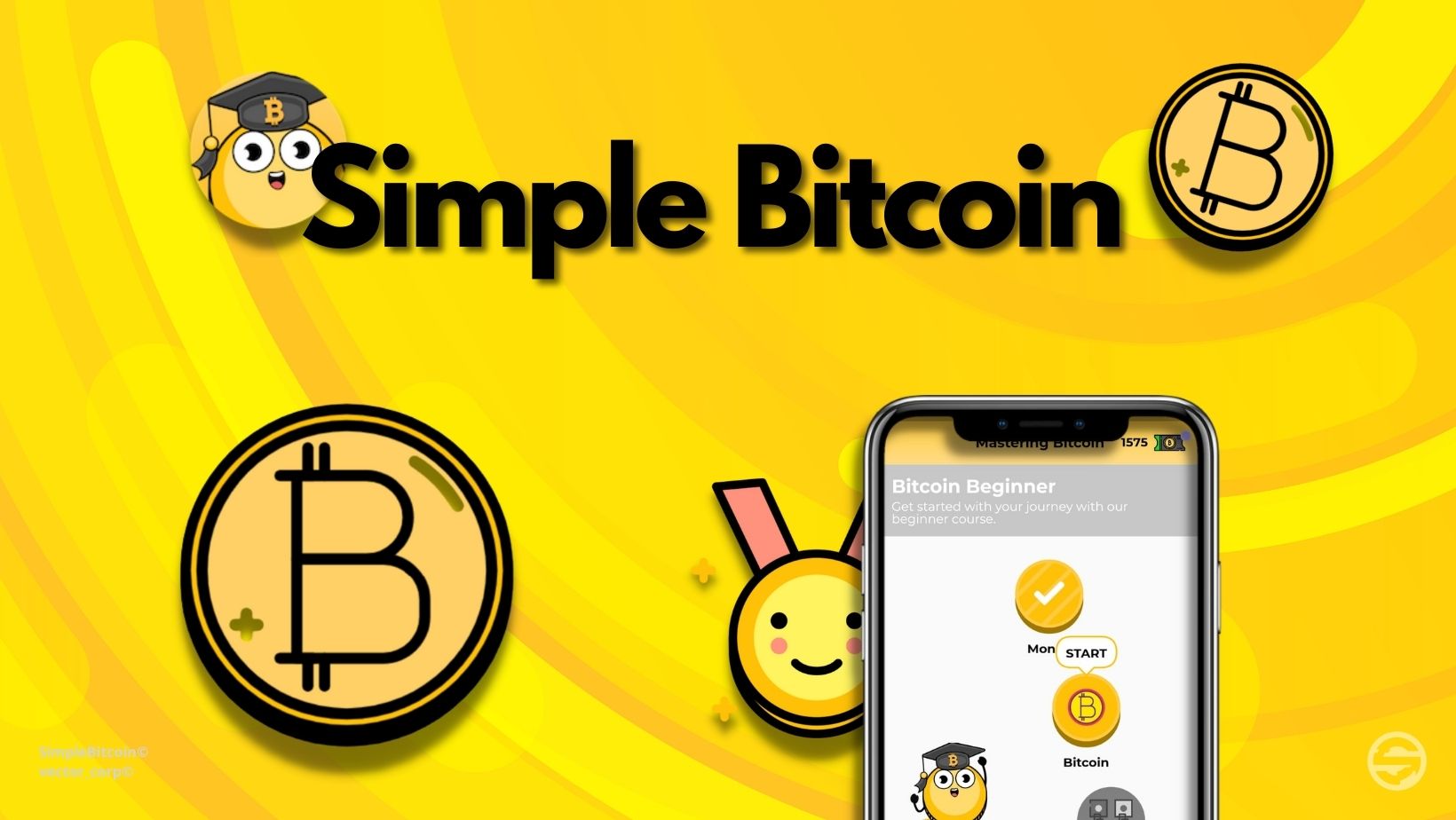 1. Complete courses and quizzes

: Simple Bitcoin offers the chance to earn Bitcoin by completing courses and correctly answering quizzes. To start a course, go to the "Course" tab and launch the first lesson. Learn and answer correctly. Each correct answer earns you tickets to spin the reward wheel.

2. Read articles to win tickets

: in addition to learning more about Bitcoin and earning Bitcoin, the app lets you keep up to date on recent Bitcoin-related topics in their articles located in the "Feed" tab. By reading these articles, you can earn more tickets to spin the rewards wheel.
3. Turning the reward wheel: to turn the wheel, you'll need 250 tickets. Rewards range from $3 to $21.
To find out more about this Learn2Earn, read our detailed article Simple Bitcoin.
Conclusion
The more the cryptocurrency world evolves, the more ways there are to earn cryptocurrency. In this article, we've introduced you to various Move2Earn, Play2Earn and Learn2Earn that allow you to accumulate Bitcoin for free. These various apps are a great way for beginners to learn more about Bitcoin and begin a journey into the cryptocurrency ecosystem, all while earning fractions of Bitcoin. Clearly, the rewards aren't stellar. However, when you know that the quantity of Bitcoin is finite and take a long-term view, it can be worth accumulating $SATS.
If you'd like to discover other ways to earn cryptocurrencies for free, visit our page dedicated to Decentralized Applications (Dapps).

---
Sources:
Disclaimer : This is not financial advice. The site aims to inform readers about various DApps. Any type of investment involves risk. Do your due diligence and do your own research on the projects featured on the site. Act as a good father and do not invest more than your objectives or financial means allow you. In this regard, read our page: Warning about virtual currencies.
Some articles on the site contain affiliate links, and using them to register from the site allows the development of the site by collecting commissions. By doing so, you also make yourself eligible for a welcome bonus such as a voucher or fee reduction, for example.